NEWS
OK! Interview: Melissa Joan Hart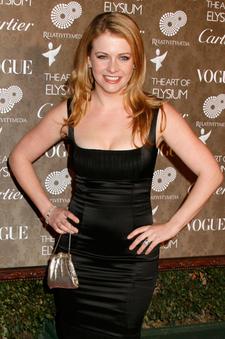 The actress, 33, who stars in ABC Family's My Fake Fiance? opens up about real life with rocker hubby Mark Wilkerson, 32, and sons Mason, 3, and Braydon, 13 months.
She tells OK!, "We're like a traveling circus."
OK!: Do you get any date nights with Mark?
Mainly our date nights are 8 p.m., when the kids are in bed, then we sort of cuddle up and watch TV. What we've been doing lately, a new little trick, we've been meeting up at Starbucks. We'll text each other real quick — "want to meet at Starbucks?" We have a little afternoon secret meeting at Starbucks that ends up being so much fun.
Article continues below advertisement
OK!: What have you learned about parenting?
I've worked since I was four; I've had every kind of job; I've worked every kind of hours in different conditions and cities and places and I would say being a mom is the hardest job there is.
OK!: Do you have any advice for moms-to-be?
See movies, read books and sleep, because you'll never do those things again.
OK!: Do you want to have more children?
MORE ON:
Melissa Joan Hart
Only because I want to try for a girl and if we don't have a girl, I'll try again for a girl but if we do have a girl, I'll try again for a sister.
My Fake Fiance? premieres on April 19.