NEWS
OK! Interview: Miranda Lambert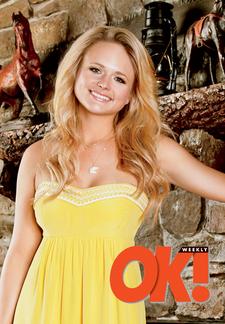 In the last four years, Miranda Lambert has gone from a wannabe Nashville Star to a Grammy-nominated country superstar. After finishing third on the reality show, the Texas native is riding high on the heels of her platinum debut album, Kerosene, and her sophomore effort, Crazy Ex-Girlfriend. Taking a break from life on the road, Miranda, 25, strikes a pose with OK! and tells us why she'll never be a size two and if she's ever been a crazy ex-girlfriend herself.
Article continues below advertisement
So do you feel more comfortable in jeans or in something you might wear on the red carpet?
I really love jeans. That's kind of my playful side — jeans and boots. I really like sundresses in the summer a lot. The dress-up for awards shows thing isn't really me; it's okay for a day, but I'm definitely ready to get back in my jeans once it's over.
Do you have one beauty product that's simply your must-have that you need all the time?
I love lip gloss. My favorite is Lip Glass by MAC. It's really good, it stays on a long time, but it's not too thick — it's my absolute favorite.
Do you have a favorite designer to wear to award show events?
I don't have a favorite designer in particular. For the Grammy's I wore Nicole Miller and I really loved the dress. The one thing, a lot of the designer dresses are so small, they come in size two, which I'm not. The dress I wore to the Grammy's was a size six, sometimes I'm a size eight. And that's normal, but it's not in the fashion world. So sometimes it's hard for me. You want to wear something that someone's never seen before, but sometimes that zipper just doesn't zip. I really like Nicole Miller because she makes stuff for normal people. Also BCBG, I really like their stuff.
Article continues below advertisement
Do you ever have to lose weight to get into these dresses on the red carpet?
It used to bother me. I thought I was fat because none of the dresses would fit. But they make them for runway models, and I've come to the realization that no matter how skinny I am, I'll never be a size two, it's just not my body. So I've accepted the way I look, and if I feel good, then that's all I care about.
You make it a point not to wear skimpy outfits on stage.
Yeah, I try to be the best example I can be for young girls just as far as my person goes — just to uphold a good image. Plus, I don't wear skimpy clothes because I don't really have the six-pack abs to show off. I really have a comfortable style. Onstage, I don't want to be thinking about my outfit, I want to think about what I'm doing, so I'll try to dress as comfortably as possible.
With such a busy touring schedule, how do you possibly have time to watch what you eat? Is it difficult on the road?
Article continues below advertisement
It's hard, but I have kind of a routine. I've had a trainer out on the road with me for the past year. He really helped me change my eating habits completely — I used to really eat badly. Now, there'll be days where I don't care, but on most days I eat salads. It's really great to have him around, even if he's not physically there, he could surprise me while I'm eating Cheetos and walk into the room. Then he'll make me pay for it in the workout. We work out every show day so I'm doing three or four days a week. I'm really active at home too. I have a farm so I'm constantly moving.
You have a farm?
I just got it in October. I've got pigs, donkeys, a miniature horse who's having a baby. It's great, you know? It's my paradise, it's where I go to get away from civilization. I mean, it's in the middle of nowhere. Those are the times where I don't have to wear makeup, I don't have to look cute, I can just be who I am.
How much time to get to spend there?
I've really gotten to spend a lot of time there, I've been so lucky. During the holidays and the winter season isn't really a big touring time for us. So I've got some weeks off this month and two weeks next month to do some songwriting. So I get to be there with all of that.
Article continues below advertisement
You've got this sort of double life.
Yeah, but they're both great lives. I think I need the farm to balance out all the craziness of my career. When I go there, I'm really just a regular girl, not Miranda Lambert.
We don't really read about you in the tabloids — do you feel like how grounded you are has kept you from going down the path that so many other young stars have chosen?
I just don't understand the party scene; I'm just not that into it at all. I do that kind of partying for a living, what I do is one big party every night. So when I'm off I really like to have my privacy, be with my boyfriend, be with my family. Anyway, I don't really have the opportunity, there's not really a party scene in the middle of nowhere Oklahoma anyway.
So you're going to start writing again when you get some downtime?
Yeah, it'll be for the new record — we won't be going into the studio until fall at the earliest, then the new record will come out next year. But I'm trying to not wait until the last minute to start writing them.
How much of your records would you say is autobiographical?
Well, the first record, Kerosene, I started writing for that one when I was 17, so obviously I didn't have a lot to write about at 17, so I took from what I'd seen and what other people were going through around me. They're a couple of songs on there that are personal. But I've really lived a lot in the three years that record's been out, so it definitely comes from a more personal place on Crazy Ex-Girlfriend.
Article continues below advertisement
Have you ever been the crazy ex-girlfriend?
Oh yeah! Currently I'm not a crazy ex-girlfriend, but I can't promise I won't be one again.
What kind of reaction have you gotten to that song and others like it?
Girls love that song. Actually, guys do too. We had this thing going last summer when we were out with Toby Keith where we would videotape people telling their crazy ex-girlfriend confessions, guys and girls. It was really interesting to hear some of the stuff. You know, we were kind of afraid that a couple of them were kind of too far out there, like someone might get arrested for this or that story. But it's fun because I think people can relate to it, everyone has their crazy moments, you know? Guys have had their crazy girlfriend and girls have been that. I guess I'm just the first to actually admit it in an album.
Do you feel kinship or competition with other young women in the country music world?
There's been some talk of a tour with me and Carrie Underwood and Kellie Pickler because girls just don't go together a lot; it's hard for women to draw. I don't know why, it's just been that way for years. I really want it to change. It's great that women are coming out right now that are great, and I think if a few of us could get together and get out there, it would be a big deal. People would love it.
For more on Miranda, check out her gallery and pick up the latest issue of OK!, on newsstands now!