NEWS
OK! Interview: Reese Witherspoon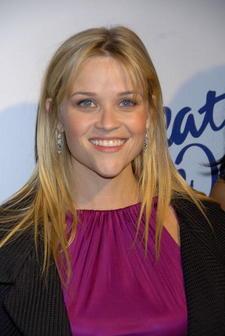 Hard to believe it, but Reese Witherspoon has been in show business for more than 15 years, dating back to her breakthrough role in 1991's The Man in the Moon. She's a seasoned veteran now, but that wasn't the case back in the day. In the latest issue of OK!, the 31-year-old recalls a very memorable audition she had with a very famous star and shares how an Oscar has changed her life.
How did you get into the industry?
Article continues below advertisement
I was living in the country in Tennessee and I looked in the paper one day. I was looking for a job or something, I was 14 and it said, "Do you want to be in a movie," and I said, "Yeah, I want to be in a movie," and I went down and they were casting the extras for the background in the movie and then one person saw me and said, "Can you act?" And I said, "Yes, I'm a big star," then I auditioned for it and I ended up getting the lead in the movie. I was really lucky. It was crazy.
When you were very young, you did a screen test for Cape Fear. Was that how it happened?
Oh yeah, it was awful, so embarrassing. I'd only done one film and then the director of photography was about to go work with Martin Scorsese and Robert De Niro on Cape Fear and he recommended me for the part. He said, you have to read this actress, she's so great. But I didn't know who Robert De Niro was, I didn't know who Martin Scorsese was. I was 14 and they sent me the information and I learned all my lines and I put on my dress and my mother and I got on the plane to New York. My mother didn't know who Robert De Niro was. We came from kind of the country and I turned to the man on the plane and he said, "What are you doing little girl?" And I said, "Oh I am going to go have an audition with Robert De Niro and somebody called Martin Scorsese." And the man said, "Oh my God, you're kidding me?" He said they're the most important filmmakers of our time. I started to shake! I literally did not stop shaking for two days, all through the audition. Poor Robert De Niro had to fill in all my lines with me. He said all my lines and his lines. But I saw him eight years later. I had to audition for him and he remembered. Oh my God! But he was really sweet and I did much better the second time. I didn't get the job but I did much better.
Article continues below advertisement
Did you think after that, I must do this right?
Oh yeah, I was prepared. I came in 110 percent prepared.
Has the Oscar changed your life and your career?
Ultimately, for me, it's given me more international recognition because people all over the world see you in a way they haven't seen you in certain things. That and it's opened up a lot of opportunities for me to work. I would never have been offered these kinds of roles. There was sort of a lot pressure right after and a lot of people wanted me to do a really big movie which I felt like, I don't know… I just wanted to do something more sort of personal, I wanted something small and sort of real.
For more on Reese, check out the newest issue of OK!, on newsstands now!