NEWS
OK! Interview: Ricki Lake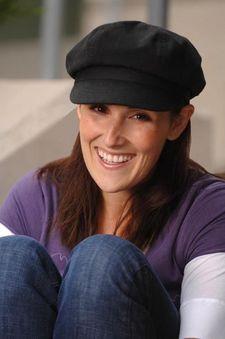 New body, new look and new movie — things are looking good for Ricki Lake. OK!'s current cover girl opens up about life, work and the world's hottest Prime Minister.
Describe your Lifetime movie Matters of Life & Dating (premieres Monday, Oct. 22).
It's an inspirational story about a breast cancer survivor. I play a woman who's in her 30s and single and trying to deal with her sexuality while going through a mastectomy and I thought it was a really great concept about dating and dealing with the reality of going through cancer treatment.
Article continues below advertisement
What could you relate to about the character?
She's dealing with the scarring and what her breasts would look like. That's what I could relate to because I was in my early 20s when I had a breast reduction. You do have scars from that. I was definitely self-conscious—are guys going to be attracted to me? I was also extremely overweight. I remember I had the surgery and I lost seven pounds of breast tissue. I wouldn't have lost weight without doing it because I couldn't exercise.
I understand your grandmother had breast cancer?
She died when I was nine; when she was 58, which, as you get older, you realize how young that is. Now that I'm nearing 40, that's really young. I think everybody, that's the scary thing about that disease; more and more people know people directly really close to them that succumb or are dealing with surviving breast cancer.
You spoke at the UN. What was that all about?
Article continues below advertisement
Yeah, I spoke at the UN. It was a new intiative, Deliver Now, looking at the maternal and infant death rates around the world and I led a rally in Bryant Park on this new initiative and then I moderated a panel with the heads of UNICEF, the World Health Organization, the UNFTA, the Prime Minister of Norway announced he was giving a billion dollars to take on this issue because—it's amazing I'm now this advocate for women and children and midwives, in particular but then they asked me, I feel like I can't be articulate, I'm so—but I got to kind of do something that takes me further, like dealing with world issues, globally looking at why, in Somalia, one woman in six dies during childbirth and it's so easily preventable so this guy, this hot Prime Minister, he's hot! I was like, "I'll have your baby, I'll move to Norway and have your baby." He was amazing so he's pledged this amount of money until 2015 and hope that other countries come on board as well. It will hopefully change the numbers.
And what else is going on career-wise? You had a pilot for ABC.
Yeah. I don't know what's happening with it. We could get a call any day. I don't know how the other shows on ABC are performing. I think that's so out of our hands but we did a pilot that was really great. It's called The Middle. But it's ironic because I play a woman who's in her late 30s who's let herself go, like physically, in every way. And that's what I play and it's so funny because I couldn't feel better about myself. So they had to make me all frumpy but it was a really fun job. I have a movie Park also opening Nov. 2.
Article continues below advertisement
What's that about?
It's a feature I did actually two years ago with Billy Baldwin about ten people in a park in one day in L.A. It very sort of Robert Altman-esque, like we're all connected in a weird way. I play Billy Baldwin's wife and I find him cheating on me and I kind of go to great lengths to make him pay.
Would you do a talk show again?
I'm not planning on it. I'm a guest on The View, but there were all these weird rumors that I was going on The View and that—people were saying, oh, you're the new host of America's Funniest Home Videos. I'm like, no, I was never even asked.
You recently celebrated a birthday.
I just turned 39 and I brought six of my best girlfriends to Vegas with me on a private plane. The best part is I hit an $8,000 jackpot on a slot machine. I never win like that but on my birthday weekend, with my friends, bells went off and I screamed like it was a million dollars.
For more on Ricki, check out her gallery and pick up the latest issue of OK!, on newsstands now!