NEWS
OK! Interview: Robin Meade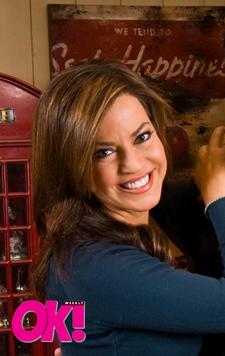 Is Robin Meade living a double life? The Morning Express news anchor delivers the news to the country in the wee hours of the morning, but by night time, the 38-year-old loves to rock out! If she weren't a journalist, Robin admits she'd be a singer, and she already got a taste of it when she duetted with Kenny Chesney last August. She's already well-trained for music stardom, living a rock-n-roll nocturnal lifestyle that accompanies anchoring a four-hour morning news show that starts at 6 a.m. Robin sat down with OK! at her spacious Atlanta home, where she lives with husband Tim Yeager and their German shepherds Rocco and Lexa, to chat about her unconventional lifestyle, decorating her home and which Irish lad she'd be nervous interviewing.
Article continues below advertisement
How long have you lived in your new house?
We've live in this house since January of last year, about a year. It's always in transition.
Is it all decorated, or are you in the process of putting everything together?
I didn't buy a thing. It was already decorated. In other words, we've done it over the past year — I don't have a decorator, I just did it myself. I enjoy that kind of thing, but I haven't always been that good at it. I think I'm pretty good now.
What's your style?
Mish-mash, is that a style? You know, our home in Buckhead, it was pristinely decorated. People would walk in and go, "Ooh, does a Hollywood star live here?" Everything was very swirly and gold and ornate. But we had a little lake house, about an 100 miles from here — out at Lake Sinclair — and we just noticed how our guests were so much more comfortable at that house, so when we moved into the Dunwoody house after we sold Buckhead, I just wanted it to feel more like the lake house because people felt so much better there. So this is more casual.
Article continues below advertisement
What's been your most expensive splurge for the house? Do you have a favorite store, is there a particular place you like to spend most for your decorations?
When I want a pretty good bang for my buck, I go to Z Gallery, I just love that place. It's got a modern edge to it, but it's traditional enough that it'll be a nice transition piece for your home. I would say, probably, one of the biggest splurges as far as the decorating is concerned were the window treatments. Window treatments are just never cheap. We have a sunroom that faces the lake, huge windows, I have walls of windows, and they're all connected in one big treatment. I don't care it they go out of style, they're staying.
What's your favorite place for bargain shopping?
I go into Target and always say, "I don't need that, I'll take three." Clothes-wise, I'll buy sweaters and dresses from Neiman Marcus and then pair it with a tank top from Forever 41, as we like to call it. I believe in a little bit of splash as far as your cash goes. I believe in buying expensive things, but everything doesn't have to be expensive.
Article continues below advertisement
What's your favorite room in the house?
It's what I call the sunroom. It has the grand piano in there, it's all about the view and how you feel when looking out at the view onto our lake. We kind of live back off the road in a wooded area. So that's my favorite, great light, most challenging to decorate.
How de-stress when you come home from work?
Usually, when the weather's nicer, I walk outside. Anywhere from three to five miles. I don't watch any TV, believe it or not. I don't watch news when I get home because then I'm back at work. I go to bed at 6 p.m. and wake up around 2 in the morning. Our show starts at six, so I'm in by 3:30, 4 a.m. It's a four-hour show, so there's a lot of prep-time. When I got to bed around 6, I will watch the news again so I know the news again before I go in the next day – I sleep on it. When I TiVo, I have to watch it obsessively because I'll TiVo a whole bunch and never get to it. But I love Nip/Tuck and Entourage when it's on. I love it.
Does your husband have a regular schedule?
Yes. I joke this is why we don't have children – we need to see each other to make them. Actually, we only see each other Friday, Saturday and Sunday. Our schedules don't allow us to see each other during the week. He runs his own wireless wholesale biz, so he gets home between 7-8 p.m., while I'm already in bed. I wake up at 2 and slink out of the room as to not wake him up and get ready in one of the other bathrooms. We live by the phone, but we've been married for 14 years and it keeps it fresh, I've got to tell you.
Article continues below advertisement
As a journalist, who would be your dream interview, or what would you most like to cover?
I would be the most nervous interviewing Bono laughs. I'm looking at Bono's guitar, I have a signed guitar on my piano – every year, I host a gala event for the World Children's Center, they asked me to be their host for a number of years running now. And they always have a silent auction where they have the best musical artifacts. I bought a guitar signed by Bruce Springsteen, one signed by Bono, and one by Keith Urban. Every year I go there and every year I get to buy a musical instrument. I would be nervous interviewing Bono because he's so smart and informed and musical and gifted and revered in so many different fields and countries that I'm afraid I'm going to look at him and say, "You're cute."
If you weren't doing this, what would you be doing?
I think I'd be singing. I just sang with Kenny Chesney in August. We heard that he watches the show. When he came to town, he just gave us complete access to everything. He eventually asked me what he had to do to get me out on stage, playing guitar with him. I told him I didn't play, but I sang, and don't ask me to sing with him if he didn't mean it, because I would definitely take him up on his offer. And so he was like, "Alright, I'll call you up during 'When the Sun Goes Down.'" So he's singing on stage, and I don't know the words to the song. I know the chorus, everybody who listens to the radio knows choruses. I said to my husband, "We had better bring the laptop because I need to learn this song on the way." So he pulled me up for the chorus and I sang harmony with him. He left the stage with me and said, "Wow, you can sing!"
For more on Robin, check out her gallery and pick up the latest issue of OK!, on newsstands now!