NEWS
OK! Interview: 'The Sexy Book of Sex' Authors Kristen & Rich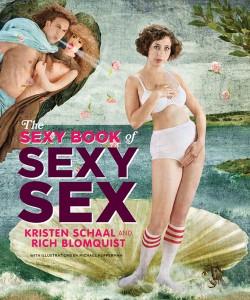 When comedian Kristen Schaal (Flight of the Conchords) and boyfriend writer Rich Blomquist (The Daily Show) released their satirical and humorous sex manual, The Sexy Book of Sexy Sex, last month, the couple admitted they'd been sexless for a while. "I think that we learned that it's harder to have sex while you're writing a book," Rich admitted. Added Kristen: "Sometimes it can be painful because the lap top can jam into your places that you don't want while you're writing and making love."
Article continues below advertisement
OK! GALLERY: JERSEY SHORE CAST FIST PUMPS THEIR WAY TO NYC
Whatever the reason is, writing a sex book along with working on a nightly TV show and doing stand-up comedy take up a lot of time, which invariably means less sex.
OK! decided to catch up with the sexified couple who were happy to say that with the book behind them, it's sexy time all the time! They also had an interesting take on why the Obamas have incredible sex, how to make blowup dolls a whole lot sexier (or creepier) and the ultimate way to test how good your sex life will be in the future – just in time for Halloween! Trust us, you want to read this.
OK!: I hope you are having lots of sex now that the book is done.
Rich: Now that the book's all done with, we can get back to our 100% sexy lifestyle.
Kristen: After this we are going off the grid. This is our last public interview and then we are going to go into hiding.
OK!: I feel honored. I've got to ask you what the photo shoot was like for the cover and who's idea it was. It was quite sexy!
Kristen: You know, that was Rich's idea. Originally, we didn't want to be on the cover because of our anonymity but then they demanded that we be on the cover because they knew that these mugs could really move the product off the shelves.
Article continues below advertisement
OK! GALLERY: CHRISTINA & MAX CHECK OUT THE PUMPKIN PATCH
Rich: They said the knowledge in your brain is pretty valuable but that sexy package that you guys wrap it in, that's what people want. Kristen has had a print of Venus in our office. She's had it as long as I've known her.
Kristen: Oh, I painted the birth of Venus on a high school mural once and we're really into that piece of art.
Rich: Well, I just came to associate you with Venus and the photo shoot was really fun. Kristen was originally going to be in a nude body stocking and a blonde wig so it would look like the painting.
Kristen: But I looked too much like Venus. It was identical.
OK!: So then you figured, let's just go with the granny panties.
OK! EXCLUSIVE: DR. DREW ON AMBER & GARY — THEY'RE TRAUMATIZED
Rich: It was indistinguishable from the painting. And then another fun thing, I was holding up the blow-up doll and it had a leak in it so our art designer had to stand right outside of frame with the air pump and keep pumping air into the blowup doll and it made it feel like it had a heartbeat. And then we stumbled on a great invention for the next blowup doll.
Article continues below advertisement
OK!: Guys that have blowup doll obsessions will purposefully be putting holes in their dolls after reading this.
Rich: It was pretty much just like a real woman.
OK!: Which celebrity couple do you think has the best sex life?
Kristen: Maybe the Obamas, right? I think the bed in the White House is supposed to be really good.
Rich: Yeah, I think that it's always sort of a three-way because Lincoln's ghost is there.
Kristen: Yeah, so it actually takes it to a whole new level.
Rich: So they're like making love to history every time.
OK!: Sounds creepy. Who do you think would be better in bed — Jennifer Aniston or Angelina Jolie?
Kristen: Ah! Don't make us pick sides on this!
Rich: Well, I think that they both would be very generous and wonderful lovers. And we're fans of both. The reputation is that crazy girls tend to be a little better in bed and I think that Angelina may be a little bit crazier.
Article continues below advertisement
OK!: There's different kinds of crazy though. Some might say Jennifer is crazy in the needy sort of way.
IN THIS ISSUE: FARRAH'S READY FOR LOVE BUT CAN'T FORGET DEREK
Kristen: Yeah, I was gonna say you decide who you think is crazier of the two and that is who is an animal in bed.
OK!: What's the best movie that can get you in the mood for sex?
Kristen: The Secretary hands down.
OK!: Do you agree, Rich?
Rich: I have actually never seen The Secretary, but I mean, I know what it's about. It's like about filing, right?
Kristen: Yeah, it's about filing cabinets. Staplers, all of it.
Rich: Yeah, I think office supplies are very sexual. So even though I haven't seen the movie, I'll go ahead and agree.
OK!: Staplers sound dangerous. What else can get you in the mood for sex?
Rich: I would say sexy Halloween costumes.
Article continues below advertisement
OK!: Oh yes! What are you guys going to be for Halloween?
Kristen: Probably a sexy dinosaur.
Rich: You're always sort of a sexy dinosaur to me.
Kristen: I know, baby. Ahrrrr!
OK! GALLERY: CELEBRITY TEEN MOMS WHO AREN'T ON TEEN MOM
OK!: Hmm… What about you, Rich?
Rich: I had an idea the other day and I haven't even run this by Kristen yet, but I was thinking that maybe we should dress up as ourselves when we're really old and get a taste of what it would be like to be an old couple having incredible sex.
Kristen: Oh, that's a great idea, baby. And then we can see if we're still attracted to each other.
Rich: Yeah, I think we should go on an old person blind date just to see if it will still work out.
Kristen: I'll dress up like an old lady for you.
Rich: Okay! So yeah, that's our advice on how to keep things spicy: dress up how you think you're going to look like in 40 years.
OK!: And then have sex and see if you're still into it?
Rich: Yeah and then have some sexy future sex!
OK!: I'm not sure my boyfriend will go for that, but I look forward to seeing your Halloween pics! Thanks guys.