NEWS
OK! Interview: Stacy Keibler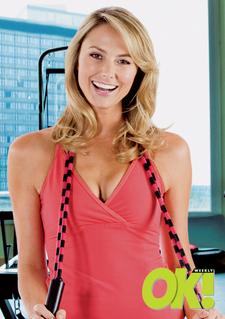 Stacy Keibler has always had a leg up on her competition, whether it was in the wrestling ring or on the dance floor when it comes to fitness. The 28-year-old with the never-ending legs boasts a femininity that has long departed several of her fellow fitness fanatics. "I'm in the best shape of my life," Stacy tells OK!. The Dancing With the Stars alum recently invited OK! along for a rigorous workout with her trainer, Juliet Kaska, and they both shared their secrets on staying in shape.
Article continues below advertisement
How have you maintained such a feminine appearance with all of your working out?
To be honest, Juliet has such a big hand in that, because she makes sure that I'm changing up my workouts so I'm not always just working with weights. We're doing spinning classes and we're doing Pilates. We're doing things so that I'm lengthening my muscles as well, so that I'm not getting too jacked, but I'm still looking healthy and fit. So it's definitely her style of training and switching things up and making sure that I'm toned, but I'm not bulky.
What does a typical day of working out consist of for you?
Every day's different, depending on what body part we're working on, or what shoot we're working for, or whatever. But I walk to the gym, first of all, and then I do some kind of cardio and then we work out. Whether we're at the gym and we do weight training or we do Pilates. And then I do a half-hour of cardio at the end. And sometimes we'll even have a whole hour of weight training and then Juliet and I will both go and tale a spinning class together for 45 minutes. That's when we're really working toward a specific goal.
Article continues below advertisement
How many times a week do you work out?
I work out with Juliet like three to four times a week, but then I work out on my own. If I can work out seven days a week I will. But with my schedule, sometimes it is only two or three. But I would say an average of four to five days. Juliet and I will try and work out three times a week together. But sometimes it's two.
What does your diet consist of?
I am on Fresh Dining right now, which has totally, totally changed everything for me. It's gourmet meals delivered to your house at night, and then you have them all ready to go for the next day – breakfast, lunch and dinner and two snacks. There's dessert, but I opt to get the two snacks because I'm not eating dessert right now. It's fantastic. It's gourmet, it's healthy, it's portion-sized, it's balanced meals. And seriously, I have shed inches and pounds within a week of being on it.
What was the difference in your workout regime when you were on DWTS, as opposed to your wrestling days?
With Dancing with the Stars, I did not work out during the show because I was working out so hard with my partner, dancing. We were practicing four to 10 hours a day, so I was just burning through the calories. And my body never looked as good as on Dancing with the Stars. I was so lean and toned, and I wasn't doing anything besides the dancing. And I was eating whatever I want. It just goes to show what dancing does for your body. In the wrestling, I was constantly working out, and I was working out around all these massive men that are all very, very jacked up. And I was kind of like following what their workouts were and I had no idea what I was doing. I didn't have a trainer, and I was really trying t get strong. You wouldn't look at pictures of me and think I was jacked up, but having Juliet now, I've learned how to have the right form, and my posture's better. I was working out incorrectly.
Article continues below advertisement
Did you like your body at all as a wrestler?
When I was wrestling, I was 19, I was young. It was a different stage of life, because I feel like now you don't lose weight as easy and your metabolism is kind of slowing down. I would say right now I'm probably I the best shape of my life.
Who are you rooting for on Dancing with the Stars?
I have to say, as far as eye candy goes, I love watching Jason Taylor and Edyta Sliwinska. They are just so sexy together. They're so hot to watch. I like Kristi Yamaguchi. It's too hard for me to have a favorite. I really like different things about different people.
For more on Stacy, check out her gallery and pick up the latest issue of OK!, on newsstands now!