NEWS
OK! Interview: Tatiana Del Toro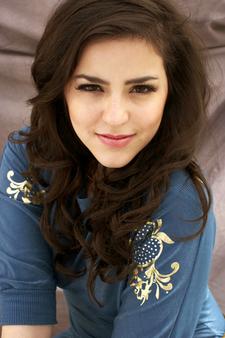 After what seems like years of semifinals, the first round of American Idol finals kicks off this week. But one familiar voice — or should we say laugh? — won't be heard among the Top 13.
"I never thought laughing would have been such a big deal, that's for sure," Tatiana Del Toro, who made quite an impression on Idol viewers and judges before being ousted in the semifinals, tells OK!. "There's lots of people who laugh."
Article continues below advertisement
Of course, Tatiana wasn't laughing very much after she missed making the Top 13 on the March 5 Wild Card round. The 23-year-old actually broke down in front of the judges' table after they announced that Megan Joy would be sailing through to the finals instead of her.
"I played it back and I saw how upset I was and I couldn't believe it," she confesses. "I was in shock for a few days. Everything you saw on that show was pure raw emotion and desire, and I couldn't have wanted it more."
Though Tatiana showed quite a few sides of her personality during her Idol run, she claims, "There is so much more still."
For instance, she says she's dedicated to helping youth in her native Puerto Rico by working with a program called In Touch with Teens that helps teach children how to avoid abuse and assault.
"It's what to do in case of bullying, how to prevent it and dealing with it in school. It also and teaches kids about relationships," she explains. "It's just as important as math and biology. It's such an important program and it needs to be put everywhere."
Article continues below advertisement
This isn't just a case of someone trying to attach their name to a cause either, explains Tatiana. "I've been hurt a lot in previous relationships," she reveals. "I think that if I would have had a program like this growing up, I could avoided a lot of the hurt that I had."
Even though she won't be the next American Idol, Tatiana says she's not deterred from her career path.
"I will do anything," she says. "Whatever comes my way. I've had every job. I'll take anything. I'll perform anywhere. I'll do whatever concert."
Ideally, Tatiana would love work with another Idol icon, Jennifer Hudson.
"She is just the most humble woman in the world, even with all the success," Tatiana gushes. "Being on the Wild Card, all I could think about was Jennifer Hudson, how she was a Wild Card, and how I want to be just like her. I love her so much."
One thing Tatiana won't be doing is tuning into the rest of the Idol season.
"I don't think I can watch the show, I'll have a panic attack," she says. "Do I wish I was there? Yeah!"
Whether Tatiana does or not, you can watch the first round of finals tonight at 8 p.m. ET on Fox.
By Delaina Dixon