NEWS
OK! Interview: Vanessa Carlton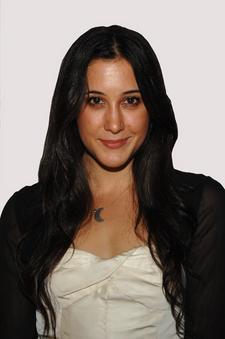 Singer/songwriter Vanessa Carlton overcame a heartwrenching breakup with Third Eye Blind's Stephan Jenkins — all thanks to her dachshund Lord Victor, who greets OK! with a friendly bark when we meet outside her spacious NYC apartment. Vanessa, who goes by "V," has just taken him for a walk on this rainy day.
As we take the elevator to her floor, she gushes about Stumbling On Happiness, a book by Daniel Gilbert that teaches us to be happy with what we have.
Article continues below advertisement
"Siamese twins are happier than single women," she says. "They're always together. They don't want to be separated. Our happiness is skewed. What we think will make us happy often doesn't."
She offers OK! a glass of water before we sit down in her posh living room, which is accentuated by a black baby grand piano and a gigantic, classical painting of nude women. Scattered rugs line the hardwood floor. Her dog is running back and forth with a jangly toy in its mouth before he decides to make OK!'s foot its resting place.
"He is my unconditional pal," the Pennsylvania-born pianist, 27, says, as she throws the toy across the room. "He's also a fantastic therapist and professional cuddler."
Vanessa and Stephan dated for four years before splitting earlier this year, and her 43-year-old ex produced her latest release Heroes And Thieves, which boasts the tune "My Best."
"I love the idea of 'My Best' because it's one of the most level-headed responses to a broken relationship," she tells OK! "It lasted for about as long as I wrote the song. The notion behind that song is no matter what crimes are committed in any relationship that fell apart, you kind of always keep your promise to that person, those people in your past. If you were to serendipitously to cross paths with them again, you would always be the best version of yourself and offer them your best. I think that notion is so lovely."
Article continues below advertisement
What did the woman who shot to fame with 2002's "Thousand Miles" learn in going through the breakup?
"Picking the hardest path reaps the most benefits," she says. "Straying from the beaten path has always served me exponentially well."
These days, she is looking for something different in a man. "A nice beard and good jeans," she says. "Lumberjack beard, good jeans – not trendy jeans – Seven Jeans, bad – and a penchant for vodka." That lumberjack, she says, is on her holiday wish list.
She calls her dating "extracurricular," and maintains that she's married to the music. When she unwinds, she keeps her craft in mind. "I love to take long strolls through the neighborhood," she says. "So much fantastic people-watching. I love to meet friends at the pub, share stories and lead as normal of a life as I can, despite the fact that I'm this traveling circus freak."
At home, Vanessa relaxes by playing piano, which separates the living room from the kitchen, and she calls writing songs "fantastic therapy" for getting over lost love. "Playing piano is so relaxing for me, and I'm so lucky that it's my work and my meditation." She also likes to tub it up. "I have a pretty fabulous bathtub in the back of my house that I get in every night, no matter what time and no matter how much I've had to drink," she laughs.
Article continues below advertisement
How does she boost her self-esteem when she's feeling low?
"I buy some Louboutin heels or fantastic lingerie," she tells OK! "It makes me feel better. You always want to channel that hotness when possible."
Post-interview, she retreats to her kitchen, where she sometimes munches on her favorite snacks: red velvet cake, cupcakes, hot fudge sundaes and chocolate peanut butter ice cream.
Just an Ordinary Day for Vanessa.