NEWS
OK! Interview: WWE Superstar Jeff Hardy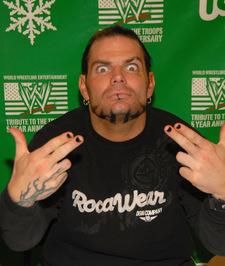 Jeff Hardy has been a wrestling mainstay for the last decade. He was first known as one half of the popular wrestling duo the Hardy Boyz with his older brother Matt. Now,he wrestles solo and admits that there's a still a few things he'd like to try, including acting. OK! caught up with the powerhouse at a Toys for Tots event in New York City where he said, "Jeff Hardy, he's kicking it for Toys for Tots."
Article continues below advertisement
You've been wrestling for quite a while now — how would you say it's changed over the years?
Kinda, you know, still living the dream, but it does become a job because there's a lot of responsibility attached to it. More than anything, that's it. It's a busy life, there's no off-season, you know? We're on the road all the time.
What was your worst beatdown?
The Undertaker's beaten me down pretty bad quite a few times. The Great Khali always serves up a good beatdown if you can't get out from under that heavy hand. The Undertaker more than anybody though.
Who's been your biggest victory?
Actually, this past Sunday when I beat Triple H, The Game, for a number-one contender opportunity. By far, that's been it.
What's in store for you in '08?
There's a lot in store. We got a huge WrestleMania in Orlando coming up, that's something to look forward to always. I'll try to apply myself again with some kind of mad, crazy, high-risk maneuver. Just continue to rock, continue to be healthy.
Some wrestlers have gone into acting, would you like to do the same?
I would love to get into acting. I really enjoy acting — portraying other personalities and approaching different levels and whatnot — that would be awesome.
What kind of movie would you like to do?
Comedy. For sure. Show the other side of Jeff Hardy that many people have never seen.
By Jocelyn Vena