NEWS
OK! Liveblogs the Emmys!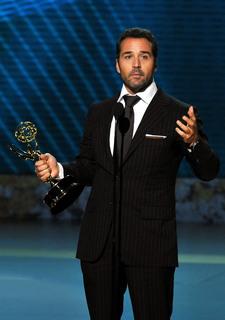 10:58: Could it be? The show is over? And on time? It can't be!!
10:57: Mad Men wins Outstanding Drama! It's the little show that could. And more importantly, we get another one right!!
10:56: The final award!!
10:54: Finally time for Best Comedy Series... The winner is: 30 Rock! We get another one right!!
10:53: I think she called Betty "internally golden" — does that mean she has jaundice?
10:52: Someone get Mary Tyler Moore a sandwich. Now.
Article continues below advertisement
10:51: We're almost there... Just a couple more...
10:50: And the anticlimactic award of the year goes to Jeff Probst.
10:49: This has dragged on way too dang long.
10:45: ugh.
10:44: And the winner for "person who stands around and kicks people off reality shows," is...
10:43: Jimmy Kimmel is back. Fantastic.
10:42: We got the Tina Fey win right, which means we're back to batting .500.
10:41: Lead Actress, Comedy winner is... Tina Fey. Not as shocking.
10:40: Is Craig Ferguson drunk? No, he's just Scottish.
10:39: Bryan Cranston wins!!! What an upset!
10:38: Looks like Kiefer is out of jail. Ain't that sweet?
10:37: Alright... Let's get this party finished, shall we?
10:30: Time for the in memoriam portion of the show. Bring out the tissues, dear.
10:28: Glenn Close wins! We picked another one!
10:28: It's America and a former Miss America! And they didn't say anything?? Something's wrong with the sound.
Article continues below advertisement
10:27: Hooray! Alec Baldwin wins!! We love Jack Donaghy!!
10:26: Finally. Something good. Lead Actor in a Comedy is...
10:25: Candice Bergen still looks exactly like she did on Murphy Brown. How's that work out?
10:24: Paul Giamatti actually wins! I guess they didn't see Lady in the Water.
10:23: The longest commercial break of the night... snore.
10:17: Still got lots to go. Anyone want to take bets on how late the show runs?
10:16: And the Emmy for Drama Series Writing is... Mad Men.
10:15: House wins for some directing thingy. And the world continues to nap.
10:14: More dang directing awards. Can't they hand these out earlier?
10:13: Cynthia Nixon is wearing a bath towel.
10:11: Kate Walsh is apparently a robot.
10:10: Don Rickles wins!!! I want to have his babies. The didn't care rush him off the stage.
10:09: I'm confused. They said they were remembering some producer guy and then went on to list nominees.
Article continues below advertisement
10:08: Kristin Chenoweth is fun-sized.
10:06: More than 2 hours in and not many water-cooler moments yet. Not a good sign.
10:03: Tom Hanks is now America's greatest historian.
10:01: Sally Field presents Outstanding Movie or Miniseries to... (you'll never believe it), John Adams. Which means, of course, that Paul Giamatti won't win.
10:01: I am now joining the Don Rickles fan club.
10:00: The Amazing Race wins its 11 billionth Emmy for Best Reality Program or whatever it's called.
9:58: I don't think Don even knows what reality TV is. And I love him even more.
9:57: Don Rickles basically tells the Emmy writers they stink. And I love him for it.
9:56: Which one is Don Rickles and which one's Kathy Griffin?
9:55: Outstanding Actress in a Miniseries or Movie... Goes to Dame Eileen Atkins for a movie no one ever saw.
9:54: A MASH clip to introduce Sandra Oh and Patrick Dempsey? That makes sense.
Article continues below advertisement
9:53: Howie Mandel reminds us he used to do something other than tell hot women to open up suitcases.
9:49: John Adams (the miniseries, not the president) wins again. The winning writer just got cut off by the preview of upcoming presenters. Once more — that's very classy of the Emmys.
9:48: And now it's writing for something or other.
9:47: Recount wins again. And the crickets around the world chirp louder.
9:47: Great. More directing.
9:46: I believe Colbert just called McCain a "dried-up old fruit."
9:45: Stephen Colbert is eating prunes on live TV. Amazing.
9:45: Tom Wilkinson for John Adams! Not exactly a shocker.
9:44: And the winner for a Supporting Actor in a Miniseries is...
9:43: Is Laurence Fishburne trying to blend in with the background?
9:42: A Dragnet reference — another one for the kids out there in the audience.
Article continues below advertisement
9:40: By my count, there are still 12 more awards (not including whatever random trophies they decide to hand out) before we call it a night.
9:37: Recount! Because we need more reminders of the horrible 2000 presidential elections.
9:37: And the winner for TV Movie is...
9:36: Christian Slater and Christina Applegate. What a cute couple.
9:35: Nothing connects us like TV? Have you ever tried super glue?
9:34: Is he going to start telling us about the PBS pledge drive?
9:33: Did anyone else notice that Martin Sheen said to "vote at least once"?
9:32: Uh-oh... we're getting political. That doesn't usually go well. The West Wing wasn't partisan? Say what?
9:31: Their choices for classic shows to highlight seems kind of arbitrary. The West Wing? I guess so...
9:29: Supposedly, we're halfway through the ceremony, but... not so much.
Article continues below advertisement
9:25: And I was completely wrong. Tina Fey wins... again.
9:24: I'm guessing The Office will win the writing award...
9:23: Barry Sonnenfeld, who hasn't directed anything worth mentioning since Men In Black, just won for Pushing Daisies, a show no one has ever seen.
9:21: Great... More directing awards. Just what this fast-paced evening needed — more deadwood.
9:19: From Laugh-In to Lauren Conrad. Talk about shifting gears.
9:18: The Daily Show just won something. What, I don't know, because that entire previous sketch was more bewildering than a Bulgarian soap opera.
9:17: Substances were definitely involved in whatever we just watched. Unfortunately, I think that substance was Geritol.
9:16: Does ANYONE have any idea what the heck is going on?
9:15: First the Smothers Brothers and now this? Apparently the Emmys demographic is older than we'd thought.
Article continues below advertisement
9:14: Someone please sock it to whomever thought this was a good idea.
9:13: That was a looonggg ad break.
9:08: And the Lead Actress in a Miniseries or Movie is... Laura Linney! Abigail Adams would be proud.
9:07: Yay! Alec Baldwin!!
9:06: I just aged 10 years in the 6 minutes it took Josh Groban to ruin TV themes forever.
9:06: Stop.
9:04: Ohmigawd. He's still singing. Did we do something to deserve this?
9:02: Josh Groban singing a bunch of TV themes. I understand WHY someone thought it was going to be funny, but... yet, it's not.
9:00: One hour down. 35 to go.
8:56: Truth is... That this Emmys is moving slower than a drunk slug.
8:55: Tom Smothers drops the first uncomfortable political bomb of the night.
8:54: Wow... Tom Smothers. The kids at home must be going wild.
8:53: Are awards ceremonies required to be bloated and slow? Is there a tax break for wasting everyone's time?
Article continues below advertisement
8:52: Looks like we got about half of each.
8:51: Which Steve Martin will we get: The funny one or the one who writes for the New Yorker?
8:50: Those are some sexy accountants. Meow.
8:49: Who looks more uncomfortable: Jeff Probst or Howie Mandel?
8:47: And the winner is... Does it really matter? The nominees list was funnier than anything these guys have written in years. I say give the award to Dr. Phil. In case you actually care, The Colbert Report won.
8:45: Jennifer Love Hewitt and Hayden Panettierre (or however you spell it) presenting a writing award of some sort... time to refresh your beverage of choice.
8:44: Dianne Wiest! We picked that one!! Redemption is ours!
8:42: And the winner for Supporting Actress in a Drama is....
8:41: Remember when The Simpsons were funny? And nice did by Conan on Katherine Heigl.
8:37: Wow... that award and speech was bizarre and irrelevant.
Article continues below advertisement
8:36: No offense to the nominees, but who cares about Directing for a Variery, Music or Comedy Program?
8:34: Ricky & Steve Carell should just go on tour together.
8:31: I was right — Ricky's the funniest thing yet tonight.
8:30: Maybe Ricky Gervais could add some humor to this blah blah night.
8:29: Zeljko Whatshisname?? Our pick was Shatner, so once again we were wrong. But who cares. That guy with the unpronounceable name just won! How cool.
8:28: And the Outstanding Supporting Actor in a Drama series is...
8:27: Suddenly Desperate Housewives is a TV classic worth showing a clip of? That's news.
8:26: Could Heidi's arms be any skinnier?
8:26: Did you enjoy your snack break? I did. On with the show.
8:21: Christina Applegate looks fantastic sitting in the audience as the orchestra rushes Jean off mid-speech. Ain't that classy.
8:20: Jean Smart! We'd said Vanessa would win, so we're batting a not-so-impressive .000 right now.
Article continues below advertisement
8:19: And the Supporting Actress in Comedy winner is....
8:19: Julia Louis-Dreyfus looks like she's wearing pink Saran Wrap!
8:18: If I wanted to watch Seinfeld clips, I'd be tuning into TBS right now.
8:17: Is that supposed to be the Seinfeld diner? That's the best they can do?
8:16: Back from the first pee-break and ready for this night to get more interesting in a hurry.
8:12: It's amazing — Jeremy's hair keeps getting thicker and thicker as he gets older. How does he do that?
8:11: Jeremy Piven for the third time in a row! OK! had picked Neil Patrick Harris, so we're 0 for 1 — not good so far.
8:10: Tina Fey & Amy Poehler presenting Supporting Actor in a Comedy Series. And the winner is...
8:09: Good to see that Heidi has no problem flashing the flesh for ratings...
8:08: Finally, Shatner to save the day!
8:07: Is Heidi that tall or are all men in Hollywood that short?
8:06: The reality hosts are really pushing this "We have nothing" bit. It wasn't that funny two minutes ago.
8:04: Who's the hot blonde guy in the suit? Oh — that's Heidi Klum.
8:03: Is it just me, or is something wrong with Oprah's voice?
8:02: Oooh... It's Oprah...
8:01: TV's top stars reciting TV's most memorable lines... The Baldwins made me laugh... a little
8:00pm: Okay, so the Jimmy Kimmel pre-ceremony thing is over. This can only be an improvement.