NEWS
OK! Liveblogs the Oscars!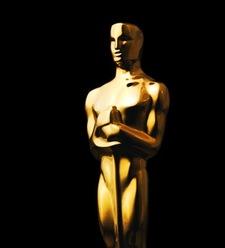 11:55pm: That's it — good night. Until next year...
11:52pm: And the winner is... Slumdog Millionaire! Oh, sorry... didn't mean to wake you.
11:51pm: Let's just hurry up and give the award to Slumdog so we can all go to bed.
11:47pm: Just one more to go!! Let's get this over with!
11:44pm: Mickey Rourke is going to body slam Sean.
11:42pm: And the winner is... Sean Penn!!!??
11:40pm: I'm putting my money on Mickey. Don't disappoint.
Article continues below advertisement
11:39pm: I so want Richard Jenkins to win. He won't, but I want it.
11:38pm: Robert DeNiro just got the biggest laugh of the night.
11:37pm: I really hate the whole "Sir" Ben Kingsley thing. Knights don't make movies with an Olsen twin.
11:36pm: Moving on to Best Actor...
11:35pm: I really hope Mickey Rourke wins because I don't think he'll be panting like a schoolgirl.
11:34pm: Is she going to pass out? Get her a tank of oxygen, stat!
11:33pm: Kate Wins-let. Get it? See what I did there?
11:32pm: Anyone else notice that all the other Best Actress nominees were heaped with praise while Nicole Kidman just gave a recap of Changeling's plot?
11:31pm: Was going to say something about Sophia Loren, but... No comment.
11:30pm: We're officially heading into overtime.
11:27pm: It looks like Shirley is scolding Anne Hathaway.
11:26pm: Nicole Kidman's here?
Article continues below advertisement
11:25pm: Time for Best Actress. Sorry Angelina, but you're the only one who doesn't stand a shot. So that's my pick — anyone but Angie.
11:22pm: Eight minutes left — will they make it? I'm betting no.
11:21pm: Did I tell ya or did I tell ya. That's Oscar # 7 for Slumdog.
11:19pm: Best Director — Danny Boyle's got a lock on this one.
11:18pm: It's Reese, so that's gotta be a big award.
11:15pm: Gotta admit.. I do miss Paul Newman.
11:11pm: Oh jeez... it's tissue time. Bring on the "In Memoriam" montage.
11:09pm: Okay... now there's nothing left but the big four. Unless they slip in another tribute on us.
11:07pm: Departures wins. Well color me wrong.
11:06pm: I'm picking Waltz with Bashir.
11:03pm: Time for that last pee break before (hopefully) the home stretch.
11:02pm: Only 5 more to go!! After they do the Foreign thing, maybe we'll get a real award.
Article continues below advertisement
11:01pm: Slumdog wins trophy #6 on the night.
11:00pm: How much do you think Hugh wanted to be in that number?
10:59pm: Was really hoping M.I.A. would take the stage with her baby.
10:56pm: Slumdog's got a 66% chance of winning Best Song, so I'm going with the odds.
10:54pm: And I'm right!
10:54pm: Picking Slumdog for Score.
10:50pm: I love that they spent some god-awful amount of time on that horrendous song and dance number earlier, but the nominated songs only get to be part of a medley.
10:46pm: More songs coming up. Heaven forbid they just hand out the award.
10:42pm: Great... time to honor Jerry Lewis.
10:41pm: I thought Eddie Murphy was banned from the Oscars after Norbit.
10:37pm: We're getting so close. Only 7 more categories to go. Time to slow it down with some annoyingly grating production numbers and lifetime achievement tributes.
10:35pm: That's award #4 for Slumdog. Think it might win Best Picture?
Article continues below advertisement
10:34pm: Editing... It's gonna be Slumdog.
10:33pm: Stay, Will, stay... At least you can sing.
10:32pm: And Slumdog bites me in the butt.
10:31pm: Sound Mixing... I'll try my luck with Dark Knight again.
10:30pm: And I am vindicated...
10:29pm: I don't care how many times I've got it wrong, but I'm picking Dark Knight for Sound Editing.
10:27pm: Wrong again. Ben Button wins. Shrug.
10:26pm: I bet Visual Effects goes to Dark Knight...
10:25pm: Will Smith likes action movies because they bought his 78 Bentleys.
10:24pm: Why do they do this every year? Just show the frickin awards.
10:22pm: That Jimmy Kimmel Show ad was better than any production number tonight.
10:20pm: I can't wait for the montage of action movies. Seriously. It means I can go get more popcorn.
10:19pm: Everyone cheers for a film they've never seen nor will ever see... yay, Hollywood!
Article continues below advertisement
10:18pm: I'm not even going to pick a short subject winner.
10:17pm: That Frenchie is a showoff.
10:16pm: Oh well... Man on Wire won. Next!
10:15pm: Best Documentary Feature... I'll pick the Herzog movie.
10:14pm: Why is Bill doing his standup schtick?
10:13pm: Bill Maher... Mr. Sensitive.
10:12pm: I miss the Spirit Awards, where you can drop the F-bomb without being bleeped.
10:11pm: Nothing picks up an audience after a heartbreaking speech than Werner Herzog.
10:10pm: Not a dry eye in the house.
10:o8pm: What a shock. Congrats, Heath... wherever you are.
10:07pm: This is going to be a tear-jerker of an acceptance.
10:05pm: All this just to give away the night's only dead-certain lock? It's a bit much.
10:04pm: Another "let's take 5 minutes to introduce the nominees" presentation. For Best Supporting Actor. If this doesn't go to Heath Ledger, I'll be a monkey's uncle... whatever that means.
Article continues below advertisement
10:02pm: Wow, look at all those great moments from past ceremonies — that all involved handing out awards!! Get back to it, please!!!!
9:59pm: They've handed out 2, count 'em — 2, awards in the last 30 minutes.
9:57pm: I'm assuming at some point there will be an award handed out tonight.
9:56pm: My lord... end it now. Before more children get hurt.
9:54pm: Now Beyoncé is taking part in this... this... whatever it is.
9:53pm: What the f--- is going on?
9:52pm: Hugh Jackman is a little TOO happy that the musical is back.
9:48pm: Another ad break?? Seriously...
9:47pm: I was right about one thing — I got that one wrong.
9:46pm: Live Action Short... time for me to get another one wrong. I'm going with Auf der Strecke.
9:45pm: I know that was supposed to be funny.
9:43pm: Wow... another chance to show movies that weren't n
Article continues below advertisement
ominated. Why?
9:40pm: Didn't we just take a commercial break. They could at least have done the Documentary Short Subject in that spot!
9:39pm: This is nice and all, but... yawn.
9:38pm: What is that thing on the front of Jessica Biel's dress? It looks like it's beginnning to mutate.
9:37pm: 15 more categories (plus a few musical numbers and all that lifetime achievement stuff) to go.
9:36pm: Time to refresh the beverage.
9:35pm: And I was right! Chalk another one up for Slumdog and another one for me.
9:34pm: Cinematography award has Slumdog written all over it.
9:33pm: Note to Ben, you retired from being funny with Meet the Fockers.
9:32pm: The Joaquin Phoenix thing was funnier yesterday at the Spirit Awards. Sorry Ben.
9:29pm: One hour in... 32 to go.
9:27pm: What's the point of this montage? It's basically every movie released last year.
Article continues below advertisement
9:26pm: Would it hurt RPatts to shave for the Oscars?
9:25pm: Watch out, Amanda!! There's a teen vampire on stage!
9:24pm: Phew! I'm back, baby!
9:23pm: Make-Up time. I'm on a bad streak, so I'm going to say Ben Button wins, but I hope Dark Knight does. Which means neither will.
9:21pm: The Duchess wins? I thought people actually had to see a movie for it to count.
9:20pm: Time for Costume Design... My crystal ball says Benjamin Button.
9:19pm: Did David Fincher use a soup bowl to cut his hair?
9:17pm: Dangit... Ben Button wins. That's two in a row wrong for me. And I had so much promise in my youth.
9:16pm: Is it time for Dark Knight to score a win? That's my pick.
9:16pm: Where did SJP get those boobs??
9:14pm: No joke here — there are still 20 categories to go.
9:10pm: Did he just quote "Mr. Roboto"?? He is my new favorite person!
9:09pm: Oh well... I missed one. Sue me.
Article continues below advertisement
9:08pm: I get the feeling my streak is about to end... but I'm gonna go with the Lavatory Love Story thing.
9:07pm: And I'm a perfect 4 for 4!!
9:06pm: I'm picking Wall-E
9:05pm: Do we need a reminder of the handful of animated movies that came out last year?
9:04pm: Think Angie headed to the bathroom early?
9:03pm: Oh crud, Jen Aniston!!
9:01pm: Three for three, baby!! I smell a perfect night at the Oscars for me.
8:59pm: And now time for Adapted Screenplay... Time for Slumdog's first award.
8:57pm: Dang I'm good!! That's two for two. I should have bet money on this...
8:56pm: And the winner is...
8:55pm: Original Screenplay time... I'm betting on Milk.
8:54pm: Remember when Steve Martin used to make funny movies?
8:53pm: I hope it doesn't take as long for this award...
8:50pm: Time for the first of many pee breaks.
Article continues below advertisement
8:49pm: One down and about 3000 more to go.
8:48pm: Hahahaha!! I was right! And I haven't even seen the movie. Congrats, Penélope!
8:47pm: At this rate, we'll be done some time next week.
8:46pm: Holy crud... just announce the winner already!
8:45pm: Wow, this is taking a heck of a long time.
8:44pm: And the winner for Best Supporting Actress is... (I'm picking Penelope Cruz)
8:43pm: Wow... Five great actresses who can't get jobs because they're too old by Hollywood standards.
8:42pm: I get the feeling it's time for Best Supporting Actress...
8:41pm: The odds are higher that Brangelina will walk out with a baby than with an Oscar.
8:40pm: I think Mickey Rourke wants to body-slam Hugh.
8:38pm: Are we watching the Oscars or the Tonys?
8:37pm: At least he admits he didn't see The Reader. Did anyone in the Academy?
8:36pm: Bring back Billy Crystal, please.
8:35pm: I will forever be haunted by the image of Hugh Jackman's huge head on a baby's body.
Article continues below advertisement
8:34pm: Why is Dark Knight being mentioned when the Academy completely overlooked it for Best Picture?
8:32pm: The Flight of the Conchords guys just got angry about the dig at New Zealand.
8:31pm: Alright, let's see if Hugh can do this without making an ass out of himself.
8:28pm: I love how Brad Pitt and Angelina completely blew off Tim Gunn on the red carpet.
8:27pm: Everyone must be moving inside; they're showing the boring behind-the-scenes stuff.
8:25pm: Settling in with some popcorn and a beverage, waiting for the show to start.