NEWS
OK! Loves: Burning Love: If You Like 'The Bachelor' You'll LOVE This Hilarious Series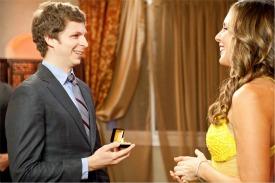 Imagine if The Bachelor was intentionally funny…. That's Burning Love.
I have never been more excited to watch a series, on the web or even on TV, than I am for Burning Love season 2. I binge watched the entire first season in one afternoon. It's that good.
If you are a fan of The Bachelor and like to laugh, you HAVE to check out the series. It is produced by Ben Stiller, and all the fun is happening on Yahoo.
Article continues below advertisement
Plus some of my favorite celebrity boyfriends (yes, I have many) are a part of this season, competing for the love of Julie Gristlewhite (played by June Diane Raphael). Michael Cera, Colin Hanks, and Adam Brody just to name a few!
I sent over a few questions to the creator and one of the head writers of the show, Erica Oyama and here's what she had to say:
OK!: How did all the "bachelors" come to be for the second series? Who called you begging to be involved?
Erica Oyama: We were so lucky to be able to call our ridiculously funny friends (Joe LoTruglio, Rob Huebel, Paul Scheer to name-drop a few) to appear on the show. We found out that Colin Hanks and Jerry O'Connell were fans of the first season so we jumped at the chance to invite them too.
OK!: What other reality shows do you love to watch?
EO: I love The Bachelor, The Bachelorette and Bachelor Pad obviously. But I could also watch House Hunters International 24 hours a day. The simplicity of people moving to Dubai looking for closet space, it's very soothing.
MORE ON:
House Hunters International
Article continues below advertisement
OK!: What luxuries and frustrations does having the show on the web bring?
EO: We loved the freedom and fast pace of producing a web series. I guess the only frustration would be that since we were a smaller operation, we didn't have a helicopter/exotic location budget!
OK!: Where did inspiration for the dates come from—The Bachelor, friends' stories?
EO: The dates on The Bachelor are wonderfully insane. Where else would you find people bungee jumping, performing Shakespeare and drinking goat's milk... for love? Also the forced enthusiasm of the contestants while on these grueling dates is amazing. It's like, "YES! There's nothing I'd rather be doing than jumping in this freezing lake with you and ten other women!"
Check out Yahoo every Thursday and Friday for a new episode. And if you missed series 1 of Burning Love, don't worry—it's coming to E! soon!
Which bachelor do you want Julie to end up with? Tell us in the comments below or on Twitter @OKMagazine