NEWS
OK! Loves: These Amazing Pop Song Mashups of 2013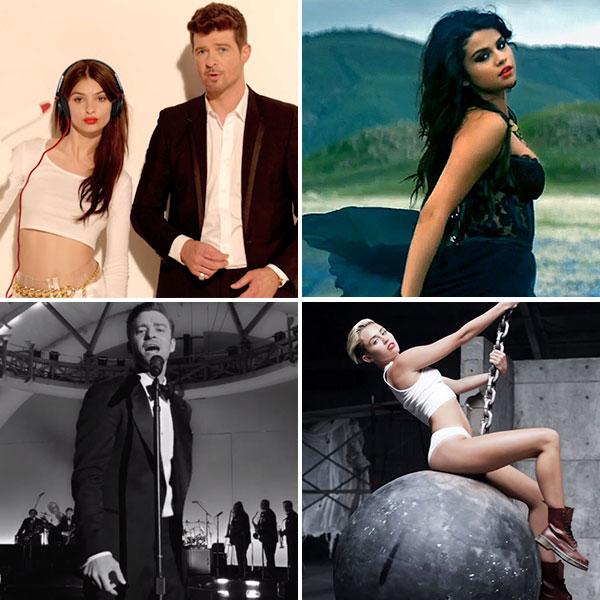 You could look at your iTunes and figure out on your own what the best pop songs of 2013 were. Or, you could listen to one (slash all) of these mashups where music producers combine all the year's top hits into one no-more-than-six-minutes video. So, which one are you going to choose? Obviously the latter. Here's the year's best pop mashups that have been released so far, and why they're clearly worthy of an OK! Loves.
Article continues below advertisement
Photos: 11 Songs of 2013 That Will Probably Win GRAMMY Awards
Firstly, there's DJ Earworm's "United States of Pop" mashup, which is probably the most well-known. He's been mixing the best songs of the year every December since 2007. Truthfully his 2009 mashup is to this day the best one, but his 2013 definitely holds up. He takes the 25 Top 40 songs that charted the highest, so if some of your favorite jams are missing, please don't take it up with me.
youtube=https://www.youtube.com/watch?v=ZGRQKKaox5Q&w=640&h=360
Then there's the Pop "Danthology 2013" from Daniel Kim, a music producer/writer who took 68 (!!!) songs that came out this year and combined them all together. The transitions are seamless, but turns out it took him approximately 180 hours to edit this video, so whoa.
youtube=https://www.youtube.com/watch?v=HJMapA8WgYw&w=640&h=360
Article continues below advertisement
The third awesome one is Mashup-Germany's Top of the Pops 2013. This one has a few less pop songs and a few more EDM songs, but it's so good. Katy Perry's "Roar" sounds amazing as a fast-paced techno song, in case you were curious.
youtube=https://www.youtube.com/watch?v=EhYHOPFioOE&w=640&h=360
This one from AnDyWuMUSICLAND gets bonus points for including "I Dreamed a Dream" from Les Miserables (technically that came out in December 2012 but we'll let it slide) and a TON of Britney hits. And oh, Fifth Harmony? Totally forgot about them until just now.
youtube=https://www.youtube.com/watch?v=kHCmDOrRCOI&w=640&h=360
Listen: Stream a Playlist of 2013's Biggest Pop Divas
Here's one from Victor Lin. His video doesn't have as many hits as the ones above, but it's a pretty solid effort, transitioning from JLO to Taylor Swift to Bieber. Like?
youtube=https://www.youtube.com/watch?v=9lwkMQOjzo0&w=640&h=360
But if you're not into that computerized stuff, how about some covers? Eric Thayne and two of his musically-inclined friends put their own twist on 19 of the year's best songs, singing more toned-down versions of "Cups," "Radioactive," "Wrecking Ball" and more with nothing but a piano, a guitar, a tambourine and three amazing voices. #Impressed.