NEWS
OK! Movie Mania: Leo DiCaprio's Best 'Great Gatsby' Interviews So Far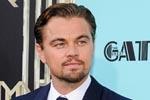 The good part about being a celebrity is lots of perks and lots of money. But the bad part? Lots of interviews. Leonardio DiCaprio and his The Great Gatsby castmates have been promoting the movie for what seems like months now, and the press just seems never-ending. But I kinda love it, because the more interviews we watch of Leo, the more I fall in love. It's like 1999 all over again.
Article continues below advertisement
And I took it upon myself to scour YouTube to find the best of the best interviews during Leo's whirlwind press tour. Take a look at my five faves below, and then tell me you're not obsessed with him. That's a challenge. Oh, and stay tuned for tons more OK! Movie Mania coverage all summer long on OKMagazine.com!
Photos: Best Dressed at The Great Gatsby Premiere
Alicia Quarles and Jason Kennedy from E! nailed it here when they asked Leo about why he barely ever reveals anything about his personal life during interviews. Still, he didn't disclose anything new in their chat from the movie's NYC premiere last week, but I don't hate watching him or hearing him speak:
I'll admit that Jake Hamilton from Fox Houston is one of my favorite celebrity interviewers of all time. I think my favorite interview of his is one with Paul Rudd promoting the worst movie ever, How Do You Know? (look it up) but his Gatsby ones are pretty great too. Just look at the way he seamlessly flirts with Carey Mulligan and Isla Fisher. So slick.
Here's another interview, this time with Extra, where Leo deflects the personal questions, but he sorta kinda answers the one about if he plans to ever get married since he's approaching the big 4-0. See his response:
Article continues below advertisement
Granted this David Letterman interview from May 1 is with Tobey Maguire, not Leo, but Tobey and Leo have been friends almost forever and Tobey tells Dave all about their adorable friendship. Watch:
And I'll leave you with this 15 minute long gem. No, this interview isn't specifically about Gatsby, but I just about died when Leo talks about Titanic in the first minute and talks about his big break in the movie biz. Take a looksie: