NEWS
OK! Next Big Deal: Conor Leslie of Discovery's New Mini-Series Klondike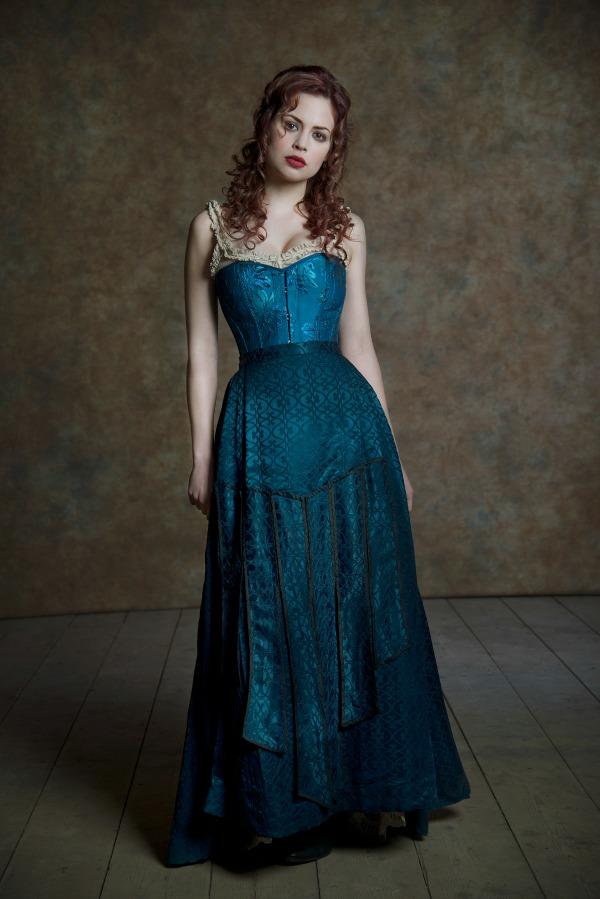 Feel like going on an adventure? Discovery is about to debut new drama, Klondike, which is their first ever scripted mini-series! It's the story of the last Gold Rush in the U.S., in the frosty Yukon. It begins airing this Monday, January 20, at 9pm, and continues the next two nights. We chatted with one of the stars, Conor Leslie, who plays young, beautiful town courtesan Sabine, to learn more!
OK! News: Kim Kardashian shows off pics of North West on the Ellen show!
Article continues below advertisement
OK!: Can you tell us about the premise of the show?
Conor Leslie: Klondike is about the gold rush in 1897, centered around a few characters. Bill Haskell, who Richard Madden plays, and his friend Byron Epstein travel to the Yukon to try to start a new life and strike some gold. And they meet some characters along the way. It shows their journey, and what people went through during the Pacific Gold Rush.
OK!: Who do you play?
CL: I play Sabine. Everyone's trying to start a new life for themselves, and she's doing the same. She falls into a pretty dark way of trying to start that, being a courtesan and trying to find her way out of it, as well. She gets taken under by a few characters.
OK!: What is her personality like? Was she fun to play?
CL: She's very fun to play. If you were a woman going over there at this time, you had to be smart. She's very naive as well, I think, because when you see her in the first episode she has a more romanticized idea of what she has to offer. In episode two, she goes through a whole journey not just physically, but an emotional one. She has to turn her life around despite the circumstances she's been given.
Article continues below advertisement
Photos: See our favorite looks from the Critics' Choice Awards.
OK!: How did your family and friends react to you playing sort of a scandalous role?
CL: You give them an idea of what to expect. My brothers are never crazy about that stuff, but that's because they're my brothers. They're really supportive and I do what I love to do. There are a lot of scandalous roles out there. It has to be taken case by case. They're just excited about the project as a whole.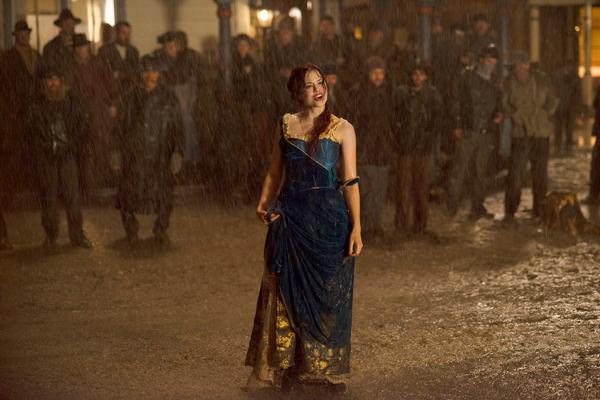 OK!: Where were you filming, and did you enjoy the adventure of it?
CL: We filmed it in Alberta, in Calgary. It's very realistic in the weather climate aspect of it. We had to deal with mountains and snow machines and that stuff. It was really, really cold. We didn't shoot anything on a green screen or stage. It was very authentic. The actors really appreciated it because it made it that much more real.
Article continues below advertisement
OK!: When did you know you wanted to be an actress?
CL: When I was younger, I'd make commercials with my best friend, and I had a mom who always supported what I wanted to do. She let me try it out, and never pushed it. She got me an agent, and when I was 15 I really started getting serious with it. I knew every early on I was obsessed with movies and certain actors. It didn't matter if it was a Disney movie or Indiana Jones. I grew up around boys, so my spectrum of movies was pretty limited!
Photos: Get some fashion inspiration from The Mindy Project!
OK!: What was your big break?
CL: I think maybe this! Honestly, it's the first job where I really felt like I was working with actors who I had previously respected and felt it was a job where I got to do a lot with a character.
OK!: You've had a few guest starring roles. Which was your favorite?
CL: I worked on Revenge, and they're really wonderful people to work with. That really helps, too, when you get to work with people and they're easy-going and fun and talented. As a New Yorker, I got to do the Law and Orders, which is almost like a rite of passage. I got to work with Jeff Goldblum when I did Law and Order: Criminal Intent, and that was a treat.
OK!: Is there a show you dream of being on?
CL: Ironically, I don't watch a lot of TV! But this past year I got hooked on Newsroom. I just think it's so smart, a smart script. I wouldn't care if I was an intern in the background! There are some TV shows that come along once and again that really make you feel like your brain is stimulated. That would be up there.
Do you think you'll watch Klondike? What's your favorite historical drama? Would you ever go to Alaska for an adventure? Tell us in the comments below or tweet us @OKMagazine.