NEWS
OK! Old School: 'Veronica Mars' Coming to Theaters? See How You Can Make It Happen!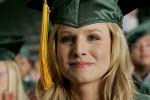 Could Veronica Mars be coming to a theater near you?
The TV show's writer and creator, Rob Thomas, says Kristen Bell is onboard—and only fans can make it a reality! That's why Thomas has started a Kickstarter campaign to fund a film project.
Watch: Vanderpump Rules Beauty Secrets
"Warner Bros. reaction was, if you can show there's enough fan interest to warrant a movie, we're on board," Thomas writes on Kickstarter. "So this is it. This is our shot. I believe it's the only one we've got."
Article continues below advertisement
As of March 13, contributions had already reached over $800,000, leaving 30 days and almost $1.2 million left to go before the project will be funded.
So what's happening in Veronica Mars' world since the show went off the air? Life has taken Veronica away from Neptune," writes Thomas. "In the years since spoiling Keith's chances to be reelected sheriff, Veronica hasn't taken a case. But something big is about to bring her back home and back to her calling."
Photos: Check These Housewives' Fashion Choices
Thomas also says he will include as many of the show's favorite characters as possible. "It is, after all, time for Veronica's 10-year high school reunion," he hints.
This isn't the first time a Veronica Mars movie almost got off the ground, says Thomas. A few years ago, he developed a pitch around graduation day at Hearst college.
"Wallace and Mac were graduating at least, Veronica had been sidetracked by freeing Keith from prison, plus, there was a murder in Neptune that was affecting the beach city's spring break business," he says of the storyline that never got made.
What would you like to see happen in the Veronica Mars movie? Will you contribute to the Kickstarter campaign? Tell us in the comments section or on Twitter @OKMagazine