NEWS
OK! Real Life: American Heroes Help Rescue Chilean Miners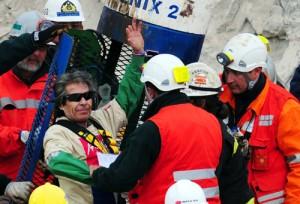 In this day and age, Great American Heroes are usually found only on screen, but this week's OK! tells the story of one group of American drill workers who proved that these role models do still exist today. A crew made up of some of America's best drillers left their families to go to Chile and join in the effort to rescue the miners trapped over 2,000 feet below the Earth's surface, an invaluable act which helped save the lives of over 30 men.
Article continues below advertisement
When Brandon Fisher and his employees at Center Rock Inc. drilling company in Berlin, Pa. heard that 33 workers were trapped in a Chilean mine they wasted no time before they were resolved to help save these men.
"When they heard that it may take until Christmas to free the miners, they sprang into action," Brandon's proud wife Julie told OK!. "They felt in their hearts they could make a difference for those 33 men."
OK! GALLERY: LIVING 'LEGEND PERFORMS AT BENEFIT FOR PAKISTAN FLOOD RELIEF
And boy, were they were correct! Brandon and his team joined forces with Denver, Colo. residents and drillers Jeff Hart and Matt Staffel who used the drill bits Brandon designed to bore through thousands of feet of solid earth to reach the miners on Oct. 9 — 66 days after the cave-in and months before the estimated rescue time.
Article continues below advertisement
OK! GALLERY: ANGELINA JOLIE VISITS FLOOD VICTIMS IN PAKISTAN
There's no doubt these American heroes played a crucial role in the rescue of the miners, who had been trapped in a 12-square-foot cave with a 15-foot-high ceiling with limited fresh oxygen and sunlight.
In fact, the workers had been assumed dead for the first 17 days after the cave-in, but then received food, medicine, water, and oxygen from a tube sent down from the surface. The men even amused themselvs with movies (Troy) and TV shows (House, CSI) projected on one of the cave walls through a fiber-optic cable also sent down. They were finally rescued yesterday.