NEWS
OK! Reveals Details Leading Up To Snooki's Arrest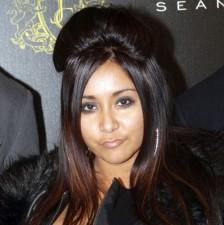 Jersey Shore's Nicole "Snooki" Polizzi was arrested last night in Seaside Heights, N.J. after seeming to get a little too intoxicated by the beach with some of her castmates.
Mark Isabella, an eyewitness to the day's festivities, spoke to OK! of Snooki's erratic behavior leading up to her arrest.
"I first saw Snooki outside the Shore Store with, I believe it was Vinnie, and then they walked down to EJ's Bar. About 20 minutes later Jennie "J Woww" Farley went in, and they all came out about an hour after," Mark revealed to OK! of the night's seemingly innocent start.
Article continues below advertisement
SNOOKI LIKELY TO SPEND THE NIGHT IN JAIL AFTER NEW JERSEY ARREST
But once the Jersey Shore crew hit the streets, Snooki started to show signs of being under the influence.
"When they left there was a ten- speed bike. Snooki got on and fell right off again. J Woww picked her up but she seemed to be ok," the eyewitness described the 22-year-old's behavior.
"She was dancing and singing all by herself. Then she just suddenly started crying. They went down off the boardwalk onto the beach and she was falling down on the ground and crying and yelling."
MORE ON:
Nicole "Snooki" Polizzi
THE 'JERSEY SHORE' GALS GET DOWN TO SOME SERIOUS SHOPPING
Even cast mate J Woww, who is usually up for the party, was trying to quell Snooki's behavior on the boardwalk.
"J Woww was yelling at her saying, 'You're acting like an a*****e Snooki. You're being an a*****e.'"
Snooki then started to get very emotional, "crying and yelling, 'I want my mom. I want to go home!'"
NUDE PHOTOS OF SNOOKI RELEASED
All the meanwhile, local cops had been in place to help keep the crowd under control while the cast was filming their MTV reality show and eventually decided to step in and, "started helping Snooki, holding her up."
When the scene grew out of control, "the cops took her up to the street and I couldn't see anything else then."
The cops took the reality starlet around the corner and arrested Snooki.
Luckily, Snooki was released from jail a few hours later according to J Woww, who took to Twitter to spread the news.
REALITY TV'S BANGIN' BIKINI BODS
"Going to bail @Sn00ki out of jail... The things I do for this girl I swear."