NEWS
OK! Reviews: 'The Twilight Saga: New Moon'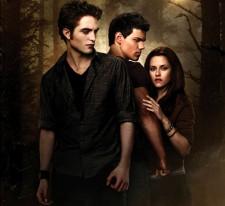 Full disclosure: I have read all four books of The Twilight Saga a few times — I'm a fast reader, I swear — and I've always ranked New Moon as my least favorite (this also should warn you that the following review might just be a bit less impartial than say, The New York Times). Nonetheless, I've been pretty excited to see the movie version. Okay, I've been really, super, almost shamefully excited... and it didn't definitely disappoint tonight.
Article continues below advertisement
One reason New Moon the book originally earned the "eh" review from me was the fact that for most of it, the perfectly swoon-worthy Edward Cullen is gone, replaced in Bella Swan's company with Jacob Black. Conversations with friends went something like,"Ugh, Jacob keeps pushing Bella" and, "Oh I know! Obviously, Bella likes Edward better, Jacob, get over it." But in the movie, I've got to admit, Taylor Lautner's Jake to Kristen Stewart's Bella is utterly perfect, in every way.
The often discussed chemistry between these two young stars is there — well, it's not so much there as it dominates their intimate scenes together, fairly breathing with a life of its own during those moments where the audience can practically see Jacob's feelings leaping through his eyes. These two aren't actors anymore in this movie, they are Jacob and Bella. Both of them are young, but unlike Twilight, where it seemed like Kristen was nervous to inhabit Bella, and Taylor was a nonentity, they've disappeared into their roles.
Article continues below advertisement
Kristen no longer relies as heavily on those sighs and stutters and the awkward hair fidgeting. She's luminous, both in her sadness and in the joy of being with Edward. As for Taylor, you can practically feel the 108 degrees of heat he gives off as a werewolf. Let's just say, all that working out suits him well (ahem, he's still only 17).
That's not to slight Robert Pattinson as Edward. Oh no, far from it — Robert moves from just being a pretty British face jumping around the forest and throwing tree branches to fully realizing the invincible, cold marble being who is so in love with a human, he could never take her soul. Gone is the faintly sweaty "sparkle" from the first installment and the silly spider monkey lines, and the audience is left with the Edward of the books. All those R-Pattz fanatics out there will have more than enough fodder for countless daydreams and wishful sighs, even if he is a hallucination for most of the movie.
Gone too, are those cheesy special effects from the first flick. The werewolves are astoundingly real, and genuinely scary. From the previews one might think they'd turn out overly CGI-ish, but some magic must have been performed between those trailers and the finished perfect, because every wolfish hair is flawless. The vampires' effects too, are vastly improved, as Victoria flips effortlessly into the air and Edward almost flies to protect Bella from the Volturi guard.
Another point for the filmmakers, especially director Chris Weitz, is the fact that New Moon the movie follows its book counterpart so closely, you'll be hard-pressed to find those few instances where it does stray. It won't matter in the end. I can basically guarantee that any fan will leave this movie with a huge, happy grin on their face.
Now excuse me while I go reread Eclipse and wait impatiently for June 2010, and the release of the next movie.