NEWS
OK! Special Report: When Giving Goes Bad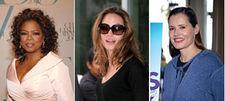 In light of the recent scandal at Oprah Winfrey's South African school for girls, OK! investigates why it is that celebrities can just as easily get scammed by fake charities and bogus causes as mere mortals.
War, what is it good for? If you'd asked opera divo Luciano Pavarotti and pop icon David Bowie, they'd say absolutely nothin'—which is why the pair supported War Child UK, a British charity that benefited children affected by the ravages of conflict. Pavarotti alone raised more than $10 million for the group, but both superstars dropped their affiliations with the charity in 2001 after discovering that two of War Child's higher ups were caught taking bribes.
Article continues below advertisement
Stars often worry whether or not their names and reputations are being put to good use by the organizations and causes they support. Take Geena Davis. She's currently embroiled in a bitter legal battle with Joseph Kelly and Nancy Gruver, a Minnesota couple whom Davis alleges stole her non-profit organization See Jane and improperly used her likeness to promote their own projects. Davis says she raised nearly $750,000 for See Jane, an organization aimed at exploring gender in children's media, before Kelly and Gruver forcibly took over the organization.
In 2006, following in Brangelina's orphan-adopting footsteps, Madonna attempted to adopt a young orphan boy from the impoverished African country of Malawi. The only problem was, orphan David wasn't exactly an orphan. And though his father initially agreed to the adoption, he later attempted to back out. Madonna actually told Oprah at the time, "I didn't realize that the adoption was causing any controversy until I came back. There were a million film crews in the airport and press camped outside my door… It's pretty shocking."
And what about the charity-happy Ms. Jolie? She, too, was burned—by a Cambodian charity that claimed Angie owed them $1.5 million. In 2006, the non-profit Cambodian Vision in Development (CVD) threatened to sue the superstar, alleging that Angelina donated an initial $350,000 to a wildlife protection project but then suddenly backed out, leaving them high and dry. According to Stephan Bognar, the head of the Cambodian-based Maddox Jolie Pitt Project, Angelina amicably ended her relationship with CVD.