NEWS
OK! Travel: Robin Hood's England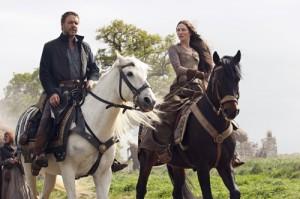 "There's something wonderful about a story that's lasted for so long," says Robin Hood star Russell Crowe of the medieval tale of the outlawed archer (famously played by Sean Connery and Kevin Costner) who traveled to Nottingham, England, to take down a corrupt sheriff and win the hand of Maid Marian, played by Cate Blanchett. "I get to do a bit of broad-sword butt-kicking," laughs the actress.
But why settle for experiencing the adventure onscreen when you can bring the legend to life with a quick jaunt to Nottingham (located about 100 miles north of London), where May 2010 has been declared Robin Hood Month?
Article continues below advertisement
WHERE TO STAY:
For a truly English experience just outside the city, head to the elegant Langar Hall Country Hotel & Restaurant (langarhall.com). Built in 1837, its 12 rooms are lavishly furnished with antiques. In the heart of Nottingham, the Lace Market Hotel (lacemarkethotel.co.uk) sits in the city's most stylish district. Ask for a room overlooking St. Mary's Church, where the legendary Robin worshiped just before his imprisonment.
OK! GALLERY: ROBIN HOOD RIDES INTO CANNES FILM FESTIVAL
WHERE TO EAT:
Built into the rock at the base of Nottingham Castle — which will house Robin Hood movie costumes through October — Ye Olde Trip to Jerusalem (triptojerusalem.com), built in the late 1100s, is England's oldest inn. Said to be a meeting place for Robin and his informers, today's guests can enjoy a pint of ale and traditional English dishes there, including fish and chips.
Article continues below advertisement
For afternoon tea, stroll to The Walk (thewalk.co.uk), a colorful cafe offering an impressive selection of champagnes, creamy teas and mouthwatering desserts.
OK! TRAVEL: TIME TO GO ISLAND HOPPING!
WHAT TO DO:
Get a feel for medieval England in the haunted dungeons of the Galleries of Justice, now a museum, where the Robin of lore was once imprisoned. Just a mile away in Edwinstowe, visit the quaint church of St. Mary, wedding site for Robin and Marian.
One hour outside the city, Sherwood Forest offers 450 acres of exploring. It's also home to the famous 1,000-year-old Major Oak, reputedly a favorite hiding place for Robin and his Merry Men.
Try your hand at archery nearby at the Adrenalin Jungle (adrenalinjungle.com) — flaming arrows not included!
JET THERE NOW:
Transatlantic airlines, including Virgin Atlantic Airlines, fly direct from New York City to London daily (virgin-atalantic.com). East Midlands Trains operates a regular rail service between London and Nottingham (eastmidlandtrains.co.uk).