NEWS
OK!'s 'Ask Heather' Column: The 'RHOC' Star Goes Behind the Scenes for the 100th Episode!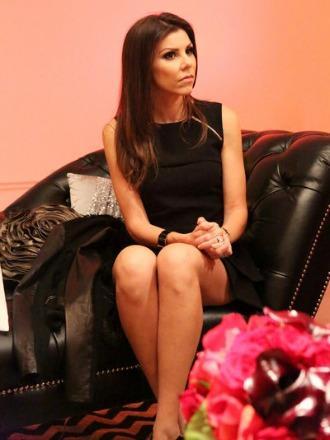 Article continues below advertisement
OK!: Why did you want to join the show?
Heather Dubrow: I really didn't. Obviously, Terry did a lot of reality television with The Swan and Bridalplasty. It just didn't seem like something that was right for me. However, we were going around town pitching a completely different show. We met Evolution, the production company that produces the Real Housewives of Orange County and Beverly Hills, and they called me after the meeting. I was like oh, no, no, no, no. I had heard the girls in Orange County were mean and threw wine at each other and all this terrible stuff.
OK!: What convinced you?
HD: Terry didn't speak to me for basically two weeks. laughs He understood the platform it gives you. It's very good for your business. For me, I was concerned that it was going to be the final nail in the coffin that used to be my career. As it turns out, work begets work, exposure begets exposure. I've gotten really great scripted TV gigs from having been on this show. At the end of the day, I have to say that I'm pretty thankful.
Article continues below advertisement
OK!: What concerns did you have about filming?
HD: I am a very sensitive person. People might not know that about me because I am very direct, but I get my feelings hurt really easily, and I have a hard time hearing what people say about me behind the scenes. You shouldn't hear everything your friends say about you in their head.
Watch: RHOC's Gretchen Rossi shares why she wishes the show were fake!
OK!: Do you tire of being the Miss FancyPants Heather all the time? Are you surprised that's your persona on the show?
HD: See, I don't really think I am. You always put your best foot forward, to be your best self. I'm still relatively new friends with a lot of the girls and that's how you behave until you know people very, very well.
OK!: When you met the girls, who did you connect with most easily?
HD: I definitely connected with Tamra first. I was scared of her because I had heard that she was the mean one—whatever that means. But we hit it off immediately. She started showing me pictures of her kids. She's still my closest friend on the show for sure.
Article continues below advertisement
OK!: Does the group turn it on more when they are filming?
HD: I definitely believe the camera heightens things. When you get a lot of women together in a group, and there's cameras on, and there's alcohol poured, and emotions are running high to begin with, that's how it gets explosive.
OK!: What's the hardest part of sharing your life on TV?
HD: This may cause some waves, but I will say this. Even though it's difficult to watch, I show everything. This season, Terry and I showed some difficult times in our relationship. I loved the feedback from the audience that it was very relatable. What I do have a problem with is when you get wind of other people on your show that are showing what they want to show so they can project a certain image or sell products. That I find annoying. If you're going to be on a reality show, show your reality. Or else, let's script it and let me get my SAG insurance back, because that would be helpful.
OK!: Are there certain things that are off limits for you?
HD: The only thing that's clearly off limits to me would be anything in the bedroom. laughs I don't think that's appropriate. We're not that family that's top secret. We're not hiding any deep, dark anything.
OK!: Have you learned anything about yourself from watching yourself on TV?
HD: I've learned to relax about my looks. Having been on scripted television, and being married to a plastic surgeon, and living in southern California, all of those things put pressure on a gal. laughs You read people's comments on the blogs about you, and some people think you're gorgeous and some people think you look like the Joker. I learned to relax and just be happy for what God's given me and Botox has helped me enhance.