NEWS
OK!'s Emmy Preview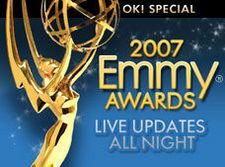 Award season is back in full swing starting Sunday with the 59th Annual Primetime Emmy Awards, and OK! is here to prepare you for television's biggest night. Here's what you need to know and what you should look forward to on Sunday. Make sure to check back at okmagazine.com for our final predictions and analyses of the big races!
WHAT: 59th Annual Primetime Emmy Awards
WHEN: Sunday, Sept. 16, 2007 on FOX at 8 p.m.
Article continues below advertisement
WHO:
Host: The show will be hosted by the man who's taking everyone's jobs, . Tune in to see how the 32-year-old stacks up against past hosts — not to mention, comedians — , and . Can Seacrest bring the funny and viewers? FOX sure seems to think so.
Presenters: Expect awkward banter between the past, present and future of television. Nominees and past winners who will hand out some gold include , , , , , and more. Stars promoting their new shows include , , and .
Performers: There will be a Family Guy cast performance paying homage to animation and a number by the Jersey Boys in tribute to The Sopranos, but the most important performance of the night would have to be 's duet with . The two will sing "Steppin' Out With My Baby," and that couldn't be more applicable to the former Mouseketeer.
Nominees: Familiarize yourself with the big categories below and make your own predictions while we finalize ours.
Article continues below advertisement
Drama Series
Boston Legal
Grey's Anatomy
Heroes
House
The Sopranos
Drama Actor
James Gandolfini, The Sopranos
Denis Leary, Rescue Me
Hugh Laurie, House
James Spader, Boston Legal
Kiefer Sutherland, 24
Drama Actress
Patricia Arquette, Medium
Minnie Driver, The Riches
Edie Falco, The Sopranos
Sally Field, Brothers and Sisters
Mariska Hargitay, Law and Order: SVU
Kyra Sedgwick, The Closer
Drama Supporting Actor
Michael Emerson, Lost
Michael Imperioli, The Sopranos
TR Knight, Grey's Anatomy
Masi Oka, Heroes
Terry O'Quinn, Lost
William Shatner, Boston Legal
Drama Supporting Actress
Lorraine Bracco, The Sopranos
Rachel Griffiths, Brothers and Sisters
Katherine Heigl, Grey's Anatomy
Sandra Oh, Grey's Anatomy
Aida Turturro, The Sopranos
Chandra Wilson, Grey's Anatomy
Comedy Series
Entourage
The Office
Two and a Half Men
Article continues below advertisement
30 Rock
Ugly Betty
Comedy Actor
Alec Baldwin, 30 Rock
Steve Carell, The Office
Ricky Gervais, Extras
Tony Shalhoub, Monk
Charlie Sheen, Two and a Half Men
Comedy Actress
America Ferrera, Ugly Betty
Tina Fey, 30 Rock
Felicity Huffman, Desperate Housewives
Julia Louis-Dreyfus, The New Adventures of Old Christine
Mary-Louise Parker, Weeds
Comedy Supporting Actor
Jon Cryer, Two and a Half Men
Kevin Dillon, Entourage
Neil Patrick Harris, How I Met Your Mother
Jeremy Piven, Entourage
Rainn Wilson, The Office
Comedy Supporting Actress
Conchata Ferrell, Two and a Half Men
Jenna Fischer, The Office
Elizabeth Perkins, Weeds
Jaime Pressly, My Name is Earl
Holland Taylor, Two and a Half Men
Vanessa Williams, Ugly Betty
Outstanding Reality-Competition Program
American Idol
Dancing With The Stars
Project Runway
The Amazing Race
Article continues below advertisement
Top Chef
Things to keep in mind:
- This is the last year the Emmys can award The Sopranos. How generous will they be?
- Three Grey's Anatomy women are up for Supporting Actress, which could potentially cause a vote split.
- Breakout Ugly Betty star America Ferrera could sweep all three big awards (Globe, SAG and Emmy) this season should she win.
- Will The Amazing Race five-peat (yes, five!) in Outstanding Reality-Competition Program? The show has never lost since the category was created in 2003, which also means American Idol has never won. Can Ryan bring be its good luck charm?
- The intricate voting process — voting for the winners (and nominees) isn't easy as 1-2-3. People don't just check off their favorite shows and stars/Hollywood buddies (at least they shouldn't), but rather, they're supposed to watch the nominees' episode submissions before deciding. Actors and shows must submit episodes (one per actor, six per show) that they believe exemplify their best work of the season. Sometimes they hit the nail on the head, sometimes they don't, but don't be surprised if people you don't like or never thought would triumph make their way to the stage — their tapes could've just been amazing (read: Emmy-baity).