NEWS
OK!'s Fashion Week Blog: Charlotte Ronson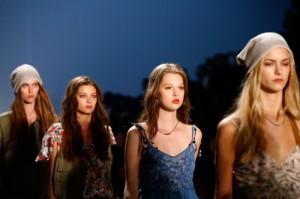 Can't make it to NYC for Fashion Week? Don't worry, OK!'s got you covered! Today we hung out at the Charlotte Ronson runway show for a sneak peek at the designer's spring collection and loved every minute!
SHOW: Charlotte Ronson
WHEN: Sept. 11, 2010
OK!'S FASHION WEEK BLOG: WALTER
WHO: Shenae Grimes, Nicky Hilton, Josh Groban, Solange Knowles and Samantha Ronson
FASHION: Soft feminine floral dresses was a huge part of the collection. For layering, sweaters wrapped around the waste and hoodies hanging from the model's head were worn. The big look of the show was sheer tops or long dressed with nothing worn underneath. Charlotte's color palette was bright orange and red pairs with softer gray, blue and green. The overall look was a bold peasant style. Charlotte collaborated with the Proper Attire condom line for the show and said, "I'm thrilled to be the first woman designer who has created a line for Proper attire to benefit Planned Parenthood. Channeling the take charge, modern woman, attitude of my collection, I want young women to bring confidence to all aspects of their lives."
Article continues below advertisement
BEAUTY: The models all had long wavy hair with a couple braids on either side. The hairstyle looked like the girls had just got done spending a day at the beach. The models also wore nose and lip rings. The hair was soft and feminine while the piercings made the overall look more edgy.
COLOR/OVERHEARD: Samantha was DJing for the show in a booth above the catwalk. Sam stayed hunched over the table until her sister Annabelle Dexter Jones walked the show and then she whistled and cheered her on. Sam was wearing a stripped blue and gray sweater that was seen in the show with a matching hat. The music she chose to go with fashion and theme of the show included Matt Nathanson's "Laid" and Lisa Loeb's "Stay ( I Missed You)," which ended the show! 90210 star Shenae chatted with Josh before the show and appeared to be very good friends while Nicky arrived just in time to sit front row.