NEWS
OK!'s Fashion Week Blog: Project Runway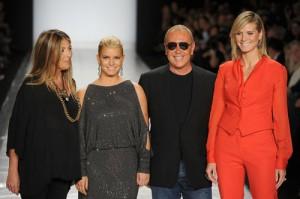 Can't make it to NYC for Fashion Week? Don't worry, OK!'s got you covered! We'll be hitting all the big shows and reporting back right here, every day, as soon as we tear our eyes off the runway! We hit up the Project Runway Presentation today to see all of the contestants beautiful designs!
OK! GALLERY: HEIDI & SEAL TAKE THEIR TRIPS TO PLAY LASER TAG
SHOW: Project Runway — Season 8 Finale Fashion Show
Article continues below advertisement
WHEN: Sept. 9, 2010
WHO: Heidi Klum, Season 8 contestants, former PR contestants, Nina Garcia, Michael Kors, Jessica Simpson, Jamie Lynn Sigler, Tyson Beckford, Betsey Johnson, Jordin Sparks, JoJo, Alexandra Wentworth
FASHION: Similar to last year's format, ten contestants showed collections on the Project Runway catwalk, to ensure that exclusivity of the final three competitors remains secret while Season 8 is still in progress on Lifetime. Jessica Simpson surprised fans and the lucky audience at the show, as the guest judge at the finale, who will help choose the winner! With all the models and different looks from the 10 aspiring designers, the show had very high energy. "I've never been so emotional then I was this season," host Heidi Klum said the crowd to open the show. "Such beautiful color and fantasy like I have never seen." PR judge and designer Michael Kors, described the multi-faceted show as "amazing and very diverse."
OK! GALLERY: HEIDI & SEAL SAIL AWAY WITH THE FAMILY
DESIGNERS:
First Collection, Michael D: "Inspired by women's underwear" the PR hopeful said before his looks hit the catwalk.
Fashion: Metallic pieces incorporated with shear netting, layered with cardigans - stole the show. Light catching sequin accents sparkled amongst a gold, black and silver color palette. The models wore sleek buns and neutral make up to balance out the bold ensembles.
Article continues below advertisement
Second Collection, Valerie: "We love color and we don't shy away from it. If rainbow bright and David Bowe had a love child this would be it. Wanted to bring something wow and crackerjack," the enthusiastic designer from Guatemala told the audience.
Fashion: Models in matching wigs walked the catwalk in bright colors — from playful pink to regal purple. These eye-catching looks incorporated layering and a textural edge. A common trend was cut-outs; especially the open back dress (which seemed to appear in all the contestants' collections). Lavish head pieces and over-sized sunglasses added a funky flair!
Third collection, Christopher: "This line is about roots and grace and romance."
Fashion: A black and white color palette was enlivened by circular patterns, structured tops and shear overlays. Hoods and high necks were popular on some dresses and tops in the collection. Tube dresses with structured bodices and flowy ephemeral bottoms ended the show. Save the best for last!
Fourth Collection, Casanova: The avante garde designer dedicated his collection to his grandmother.
Article continues below advertisement
Fashion: It looked like gold glitter exploded on the the runway in the form of pants, skirts and shorts. Voluminous hair and Ke$ha-esque gold face paint was featured around the models' eyes. Metallic colors reflected well on the catwalk and jewelry was used to accent the electric feel of the clothing. Very fitted trouser pants were embellished with sequin encrusted pockets. The studded and spiked corsets would be a perfect look for Rihanna during her concerts!
Fifth Collection, Ivy: "My collection was inspired by one of my favorite beaches in Hawaii," she said before very light, airy beachwear hit the catwalk.
Fashion: Sleek silhouettes were made sexy with cut out open backs set against an organic, neutral color palette. The organic palette was brightened up with pops of yellow — one of the most notable dresses in the collection was a beautiful saffron color. Models wore big straw hats to give off the beachy vibe. Some pieces looked a little Michael Kors-esque and the collection is definitely very wearable.
Article continues below advertisement
Sixth collection, Michael Costello: Collection inspired by his good friend.
Fashion: Feathers and fringe spiced up the dresses in the this collection which maintained a gold and warm brown color palette. Sequin hot pants, draping and one shoulder looks were very popular among the metallic frocks. Big volume hair and dramatic makeup fit the textural edge and ruching that was featured on the clothing.
Seventh Collection, Gretchen: "I call it running through fire," she said.
Fashion: Fitted pants, flowly tunic tops, and long flowy maxi-dresses with cut-out backs tied the looks together in Gretchen's (Project Runway's signature bad girl) collection. Models sported long wavy locks, hats and sunglasses and statement necklaces.
Eighth collection, Mondo: "I dedicate this collection to my spiritual guide, my grandmother Betty," the proud designer said.
Article continues below advertisement
Fashion: Rompers, color block dresses, mix-matched patterns and metallics exploded on the catwalk for Mondo's avante garde collection. Models wore their hair in high buns with hair bows on top, accented with flowers. On models, dark eye makeup with super long lashes was paired with bright pink lips to achieve a dramatic look. Skulls and gingham plaid were noteworthy accents to pieces in the collection.
Ninth collection, April: "My collection was inspired by dusty dolls going to a tea party and getting washed away," the designer said. This concept was very cohesive and the most distinct and developed idea of the bunch.
Fashion: Loose fitting tunics, jumpsuits, lightweight scarves, and bandage bodices with full skirts set against a neutral color palette expressed April's inspiration of "dusty dolls." Models had very neutral makeup on and looked like porcelain dolls. Sported what looked to be ace bandages rapped around their heads has head bands and hair was up in a tangled nest and sprayed grey.
Article continues below advertisement
Tenth collection, Andy: "My collection is inspired by a dream. Bringing statues to life," the humbled designer said.
Fashion: The metallic color palette matched perfectly with the silver eye makeup. Wire head pieces added to the fringe and layering featured on the dresses. Some looks also incorporated a shear overlay.
OK! GALLERY: HEIDI, SEAL & CREW ALL SCREAM FOR ICE CREAM
COLOR/OVERHEARD: Heidi looked ravishing in red suit. She seemed genuinely proud of the designers, but maintained a straight face as the collections came down the runway.
Jessica beamed with excitement to be in on the action. The singer/actress has really embarked on her own fashion career and is very busy with her own collections this Fashion Week.
"I was amazing," Jessica, who wore a mini, sequin silver frock, told reporters of the show. "I'm so proud of all of them."
Stylist, Red Carpet fashion guru and America's Next Top Model star Jay Manuel said "Jessica has a great sense of style and a great head on her shoulders."
Article continues below advertisement
The fashion expert commented on the high quality of the PR contestants and the looks on the catwalk.
"I was really impressed by the sophistication of the construction and the fabrics and prints. I think a lot of women can see themselves in these collections. They are very wearable and current," he said.
So who does he think will win?
"I really like Gretchen's collection," he said. "It really stood out. I thought it was beautiful, feminine and just wearable."
FOR ALL OF OK!'S NYC FASHION WEEK, CLICK HERE!
Heidi told reporters that there is still a lot of deliberation that needs to go on between the judges, and she was looking forward to hearing Jessica's opinions on he collections.
As far as the shift from Bryant Park to Lincoln Center, Heidi welcomes the change.
"I love it," the mom/model/and host said. "I think it's beautiful, very elegant. Usually, I come to Lincoln Center to see a ballet or for a theater performance. Now that fashion is here, that is another form of art. I think it's great!"