NEWS
OK!'s Fashion Week Blog: Z Spoke by Zac Posen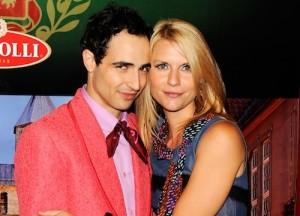 Can't make it to NYC for Fashion Week? Don't worry, OK!'s got you covered! Today we hung out at Z Spoke by Zac Posen's runway show for a sneak peek at the designer's spring collection and loved every minute!
SHOW: Z Spoke by Zac Posen
WHEN: Sept. 11, 2010 (at The Theater at Lincoln Center)
WHO: Claire Danes, Carmen Electra, Shenae Grimes, Kristin Cavallari, Michelle Trachtenberg, Kimora Lee, Russell Simmons, Jamie King, Leigh Lezark, America's Next Top Model stars Jay Manuel and Miss J. Alexander.
Article continues below advertisement
FASHION: It was all about jersey knits, funky patterns and creating a collection that celebrates "iconic powerful women." With patterns ranging form human faces printed on silk to florals to personified fruit (apple and grape prints, which Zac called "grumpy fruits"), attention to detail and accessories was an integral part of the Z Spoke line. Blue and black bases were enlivened with pops of color (yellows, greens, reds) and fabulous prints to create a fun, young and sexy vibe to the collection. Peek-a-boo cutouts and low backs added to the femininity of the designs. Fabulous spring coats, knits, suiting and classic T-shirts were layered together for a very wearable look. Zac also made "ruffles cool" by "deconstructing them and making them more punk."
"This is about creating the best, highest quality product at the most accessible price point," Zac told OK! backstage before the show. "About a new Americana sportswear taking the influences Hollywood has had on me."
"It all has a sort of late 70s early 80s quality to the collection," Zac said. "I was looking at Halston, Pat Cleveland, Jersey dressing, print dressing. Lindsay Lohan's nails. Bad girls."
Article continues below advertisement
BEAUTY: The inspiration behind the overall beauty look was described as "Marie Antoinette walking down the streets of NYC." Three different bold makeup looks were featured on the models ranging from dark smoky eyes with bold black liner to electric neon shadows and hot pink lips. It was all about the Shirley Temple curls when it came to hair. Models sported tight ringlets pinned up in a variety of unique ways. The look was inspired by Zac's own curly mane! Models also sported long, bright patterned nails inspired by Lindsay Lohan.
COLOR/OVERHEAD: Creating, designing and promoting two well-developed and diverse collections is no easy feat, but Zac Posen thrives on the challenge and couldn't be prouder of his latest endeavor, Z Spoke.
How's does he balance everything?
"I cook and I have my three Candy Darling, Tina Turner and Betty Blue," the talented designer told OK! backstage at his show.
"It is about celebrating the diversity in our brands and using the different amazing couture techniques that we developed over almost 10 years of being in fashion," Zac said. "Putting on a fashiontainment hell of a show."
Article continues below advertisement
And fashiontainment was the perfect way to describe the atmosphere at Z Spoke.
Energy was very high during the show, and the crowd swayed in their seats to music by The Misshapes.
Front row celebrities caught the contagious upbeat vibe of the presentation as well.
Kimora Lee sat next to ex-husband Russell Simmons, joking "I guess I'll sit next to you."
She took pictures on her iPhone of the collection and led the audience in a round of applause for a model who fell on he runway, but picked herself right back up and continued to work the catwalk.
Kimora also led the front row in a standing ovation for the beloved designer.
Claire Danes said she has been friends with Zac all of her adult life.
"My style is heavily informed by my relationship with Zac," Claire told OK!. "It's urban and kind of casual."
The Emmy-winning actress said she was there in full support of her friend, recognizing the night was not about her.
Article continues below advertisement
"I'm excited because this is a new line for Zac, and he is showing his more formal line for the first time in Paris, which is really thrilling," Claire said. "But he is doing really fun things with Z Spoke."
Z Spoke was Kristin Cavallari's second show during Fashion Week, and she proudly wore a fun floral dress from the designers collection.
"His dresses always fit me really well," Kristin told OK!. "I like the shapes he uses. He's young and he likes to keep things fresh."
Carmen Electra rocked a form-fitting frock hand picked by the designer.
The actress was happy to be caught up in the excitement of Fashion Week, but also took time to remember the tragic events of the historic date.
"It is important to take time to honor everyone who lost their lives in 9-11," Carmen told OK!. "The show goes on and that's what I think people want who have gone through that."