NEWS
OK!'s Guide to the Olsen Twins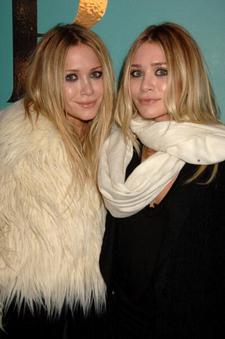 Think you know how to tell the difference between Mary-Kate Olsen and her sister Ashley? With OK!'s handy guide, it's easier than you think!
Sure, the twins rose to fame after appearing on Full House as toddlers. The fearsome twosome — who are actually fraternal, not identical twins — literally grew up in front of the camera. The pint-sized moguls, whose company Dualstar is worth an estimated $100 million, have made a concerted effort in recent years to be seen as separate people — and to keep their private lives private.
Article continues below advertisement
In June 2004, as concern over her skeletal frame grew, Mary-Kate entered Cirque Lodge for treatment of an eating disorder. That same year, she dated Stavros Niarchos, who left her for Paris Hilton, a onetime friend of Olsen's.
Professionally, Mary-Kate is more focused than her sister, Ashley, on pursuing film and television roles. Since making the critically-panned New York Minute in 2004, Ashley has shied away from film roles. In 2007, she returned to television for a guest appearance on HBO series Weeds. And most recently, she starred with Ben Kingsley in the film The Wackness.
Mary-Kate is also a bit of an exhibitionist. In 2007, she told Harper's Bazaar about her predilection to nudity. " I run around my house naked with heels all the time. It's so funny. All my friends will tell you I love running around in kimonos and jewelery or naked with jewelery."
Sister Ashley, considered the more artistic and fashion-oriented of the two, has helped grow the sisters' clothing line, The Row, and even interned with fashion darling Zac Posen to help develop her skills. The pair is no strangers to couture: Ashley and Mary-Kate starred in an ad campaign for designer Badgley Mischka, and though they're often criticized for their sometimes off-the-wall style, the twins are considered style icons. In 2007, they launched a high-end line named Elizabeth and James, after two of the twin's siblings.
Article continues below advertisement
Ashley — older than Mary-Kate by two minutes — has had a string of high-profile relationships with older men, including Jared Leto in 2005, and promoter Scott Sariano (15 years older and nine years older, respectively). In 2007, 21-year-old Ashley was linked to 36-year-old Tour de France winner Lance Armstrong, though both denied a serious romance. She was also linked to David Katzenberg, who moved on from Oslen to Nicky Hilton. Those Hilton sisters seem to love the Olsen's sloppy seconds.
Mary-Kate
Education: New York University (dropped out after one year)
Exes: Stavros Niarchos, Max Snow
Ailments: Eating disorder (2004); kidney infection (2007)
TV: Full House, Weeds
Movies: New York Minute; scenes in Factory Girl, which were later cut; The Wackness
Ashley:
Education: New York University (dropped out after one year)
Exes: Jared Leto, Scott Sariano, David Katzenberg, Lance Armstrong
TV: Full House