NEWS
OK!'S Hot Spot: SBE's The Colony!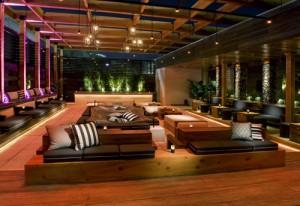 Hollywood nightlife is alive and well at SBE's The Colony — where the party can go on until 4 a.m. With its relaxed, beachy feel, this West Hollywood club is a seamless indoor-outdoor experience. For A-listers like Jennifer Lopez it's a great night out, and for The Hills stars, like Audrina Patridge, this is their clubhouse!
A partygoer says, "The drinks are awesome."
Costas Charalambous, SBE's SVP of night life and operations, tells OK!: "The Colony is something never seen before in nightlife."
Article continues below advertisement
Which is exactly why CIROC Ultra Premium vodka, Godiva and OK! in association with Step Up Women's Network choose The Colony as the perfect spot to pay tribute to women of music, honoring top music executives!
Now you can bring some of the nightlife into your own home with these two great cocktail recipes!
Godiva Midnight Martini
Ingredients
• 11/2 ounces Godiva Chocolate Infused Vodka
• Strawberry wedge for garnish
Directions
Pour Godiva Chocolate Infused Vodka into a cocktail shaker filled with ice. Shake well and strain into a martini glass. Garnish with a strawberry wedge. Server in martini glass!
Love Berry Cocktail
Makes 1 cocktail
Ingredients
• 1.5oz. CI?ROC RedBerry vodka
• 1oz. sourmix
• 1/2oz.cran- berry juice
• 1/4oz. raspberry liqueur
Directions
In a shaker with ice, combine all ingredients. Strain into a martini glass and garnish with raspberries, if desired.