NEWS
OK!'s Live Coverage of the Grammys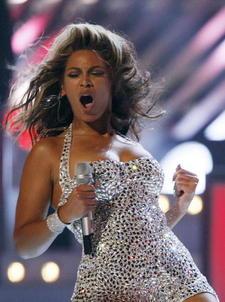 11:38: Yep... Guess that's it. Time for bed.
11:32: Is that it? Are we done here?
11:31: They're trying to play Herbie off the stage. That's classy of them.
11:30: Herbie points out that it's been 43 years since a jazz artist won this award. Which is funny since tonight's ceremony feels like it's taken 44 years to get to this point.
11:29: Um... Herbie Hancock just won for Album of the Year. What year? 1982? Oh, Kanye is going to cry tonight!
Article continues below advertisement
11:28: The final award? There are 110 categories and they only gave away 8 0r 9 on air.
11:27: Did anyone notice all the empty seats in the front section?
11:25: Will.i.am is rapping about the Grammys. Sure to be a hit.
11:19: Good golly, Miss Molly, stop already.
11:17: Aren't these guys out past their curfew?
11:13: John Fogerty, Jerry Lee Lewis and Little Richard. Were the Allman Brothers booked?
11:12: Wow... Bonnie Raitt really dressed up for the occasion, huh?
11:03: Andrea Bocelli's here... I must have changed the channel to a PBS fundraiser.
11:00: Instead of handing out awards, some boring dude in a beard is putting me to sleep. Great idea.
10:51: Amy dedicates her award to her jailed husband Blake. Now that's class.
10:50: Amy Winehouse wins again. She looks like she's going to cry. But then again, when doesn't she?
10:49: What's the difference between Record of the Year and Album of the Year? Perhaps it's time for a clarification session.
Article continues below advertisement
10:47: That was very strange. Not Britney at the VMAs strange, but bizarre nonetheless.
10:46: Amy Winehouse's ridiculous hair weighs more than she does.
10:44: She's actually singing it. Talk about "ripped from the headlines."
10:42: If Dusty Springfield were alive, she'd be calling her lawyer.
10:41: Finally... the thing they've been hyping all night. Amy Winehouse.
10:34: In the not-at-all-a-surprise category, Best Rap/Sung Collaboration (this is an award?) goes to... Rihanna & Jay-Z.
10:33: Hope you all enjoyed your bathroom break.
10:28: Is this "dueling ducks"? Which one is Daffy and which one is Donald?
10:26: How many people in the audience thought he meant "Bohemian Rhapsody" when he said "Rhapsody in Blue"?
10:25: Joe Mantegna, the name that defines rock music. Or... an actor in a CBS show.
10:19: Vince Gill just zinged Kanye. I might start listening to country music because of that. Not really.
Article continues below advertisement
10:18: Best Country Album goes to...Vince Gill. Great.
10:17: Ringo & Dave Stewart — two middle-aged British men in shades. Sexy.
10:15: John Mayer? Is there a Mac convention in town this weekend?
10:14: Why does Alicia have that random keyboard out in the middle of nowhere? To play three notes before going back to the real piano?
10:12: They must really love Alicia Keys. Will Frank Sinatra's ghost make an encore appearance?
10:05: Wow! An actual surprise. The Foo Fighters win Best Rock Album. And with that, the award count for the night rises to... six.
10:04: Gee... Will Daughtry win?
10:03: Kid Rock seems to be channeling David Lee Roth channeling Louis Prima.
10:01: This is very strange. Is Kid Rock going to punch her?
10:00: Two hours down. 36 to go.
9:57: Hey, it's the girl from the iPod nano commercial!
9:45: The trombone players have won my heart. Speaking of which, we are now halfway through the evening's scheduled festivities and I can literally count the number of awards handed out so far on one hand.
Article continues below advertisement
9:43: Aretha is apparently on her way to a toga party after the Grammys.
9:41: Kanye actually gets them to stop playing the walk-off music. An impressive feat.
9:40: Someone should tell Kanye his jacket is glowing.
9:39: And the winner for Best Rap Album is... Kanye. Another shocker. Was Amy Winehouse not nominated?
9:38: Wake up the kids — they might be handing something out!
9:37: Just in case you think you missed any awards being given out in the last 97 minutes. Don't worry. You haven't.
9:33: Brad Paisley just does NOT look like a country star. Take that hat off and shave the goatee and he's Adam Levine from Maroon 5.
9:27: Don't know about you, but I think they're milking this whole Amy Winehouse thing a little too much. Having someone with an obvious substance abuse problem — who should be in rehab — singing about what a joke rehab is... Yeah, I dunno.
9:22: Remember when Dave Grohl was in a little band called Nirvana? Maybe they'll bring out Krist Novaselic and make this night interesting.
Article continues below advertisement
9:21: And the winner of the least important contest in the world is... Someone you've never heard of.
9:15: Amy Winehouse wins. Shock. Oh, and just in case you hadn't heard... she's going to be performing live via satellite later. Because they've only mentioned it 32,198 times so far tonight.
9:14: Award #4 — Songwriter of the Year. And the winner is...
9:13: Andy Williams? I mean, c'mon!
9:12: I predict a spike in Tina Turner CD sales tomorrow.
9:08: A senior citizen just schooled a bunch of 20-something dancers. I love it!
9:06: Can you believe that Tina Turner is 68? I'd be lucky to look that good at 38!
9:05: Beyoncé gives us a little musical history lesson. How nice.
9:03: What is Cher wearing? It's like something vomited diamonds on a garbage bag!
9:00: One hour finished. Three awards handed out. I'm going to have to cancel my morning appointments because I think I might be here all night.
Article continues below advertisement
8:56: Who knew Ringo was so small?
8:55: I don't get it... They handed out Best Pop Vocal in an earlier, untelevised ceremony, but somehow Best Soundtrack Compilation merits prime-time coverage?
8:54: Don't think that was the note Fergie.
8:52: Fergie and John Legend are stranded in an island in the audience! Someone help them!
8:48: Daft Punk dressed as Tron guys? The highlight of the night so far. Seriously.
8:47: Hey Kanye, I can't wait much longer either... for them to hand out another award.
8:45: Think Kanye is tired of performing this song yet?
8:38: Wow... that was one hot string section. My heart is racing.
8:37: The Foo Fighters are going to play with a contest winner. Must be the high point of their long and storied career.
8:35: Oh yeah... This is an awards show. Best New Artist is... Amy Winehouse. Snore.
Article continues below advertisement
8:34: Cyndi Lauper & Miley Cyrus. Yeah, that makes sense.
8:32: Yes, please let...it...be.
8:31: The Grammys have just turned into American Idol. I say put this kid through to the Hollywood round. Simon? Paula?
8:30: 30 minutes into this and they have handed out a grand total of (hold on, let me do the math...) oh yeah — ONE award. This is going to be a long night.
8:26: Oh jeez... It's Cirque du Soleil dancing to a Beatles tape. My night has just been made.
8:24: Tom Hanks at the Grammys... Talking about The Band. They have given up on the under-45 demographic.
8:22: Funny... Prince made Morris Day & the Time famous — and we know he's there. So why didn't he come out and perform with them and Rihanna?
8:19: Aahhhh... Now I get it. They're going to trot out tired old musical acts and then have them "duet with time."
8:18: Wow... reuniting Morris Day & the Time? Like I said, they're doing a great job of keeping it current for today's young audience... (sigh)
Article continues below advertisement
8:12: Alicia is thanking everyone from God to angels to her manicurist... What about the millions of people who actually bought the album?
8:11: And a little person in sunglasses is ready to hand out the Best R&B Female award to Alicia.
8:09: Nice performance, Carrie. I'm assuming at some point there will be an award given out.
8:06: Someone please find Carrie the rest of her shorts! And I think that's a Flash Gordon decoder ring on her finger.
8:05: "Here's to the next 50 years"... Is that how long this is going to last?
8:04: "To appear on the Grammys is to duet with history"?? Someone did put something in my crab dip.
8:02: Is that Alicia Keys singing with Frank? Did someone put something into my crab dip? Does she realize that he can't hear it when she says "yeah, go Frank"?
8:01: Frank Sinatra? Way to keep up with the kids these days.
8:00: So the Grammys are 50? Don't look a day over 49...