NEWS
OK!'s New Year's Eve Party Round-Up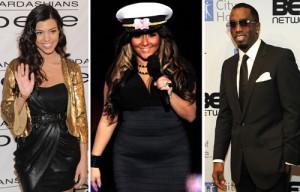 When it comes to New Year's Eve, nobody ever really wants to be at home on the couch eating takeout food. OK! has all of the best parties lined up so there is no chance of watching the ball drop solo this time around. Check out how the stars are celebrating New Year's Eve 2011 across the globe in cities like NYC, Las Vegas, L.A., Miami, Chicago and more with OK!'s NYE Party Roundup!
Whether you decide to Keep Up with the Kardashians on Dec. 31 at sister Kourtney Kardashian's Ciroc NYE Party in Miami or fist pump the night away with the cast of Jersey Shore in New York, OK! found the best parties where celebrities will be counting down the final moments of 2010.
Article continues below advertisement
NEW YORK
PARTY: Ring In The New Year With The Roots
WHO: The Roots
WHERE: The Brooklyn Bowl
THE DISH: They're leaving Jimmy Fallon's set and heading to Brooklyn! The Roots will be playing three full sets and the party doesn't stop until 6 AM! Tickets are only $85.
PARTY: NewYearsEve.com After party with Snooki
WHO: Nicole "Snooki" Polizzi
WHERE: Madame Tussaud's
THE DISH: Snooki is hosting this bash, which we know will be crazy. Admission is $65, party goes until 4 a.m. Lets just hope we can tell Snooki apart from the wax sculptures.
PARTY: NewYearsEve.com's Party at Amnesia with JWOWW
WHO: JWOWW from Jersey Shore
WHERE: Amnesia
THE DISH: JWOWW brings her New Jersey hot body to NYC for this New Years bash. Admission is $99 and goes until 2 a.m.
PARTY: DJ Pauly D hosts NewYearsEve.com's party
WHO: DJ Pauly D from Jersey Shore
WHERE: Espace
THE DISH: DJ Pauly D will be spinning this party so you can expect some fist pumps and smushing. Admission is $135 with a 6-hour open bar.
Article continues below advertisement
PARTY: The Honey Brothers Newyearseve.com's party at Hudson Hotel
WHO: The Honey Brothers featuring Adrian Grenier, Ari Gold, Ethan Gold, Andrew Vladeck and Daniel Posner
WHERE: Hudson Hotel
THE DISH: If you like the Entourage stud's musical abilities then you'll enjoy this party hosted by the Honey Brothers. Admission is $150 and ends at 1 a.m., just in time for your after party plans.
PARTY: Dick Clark's New Year's Rockin' Eve With Ryan Seacrest
WHO: Ke$ha, Taio Cruz, Jennifer Hudson, Jenny McCarthy, Fergie, Avril Lavigne, Natasha Bedingfield, Ne-Yo, Train, Mike Posner, Willow Smith, Jason Derulo, Far East Movement, La Roux, Drake, and Ryan Seacrest
WHERE: Times Square
THE DISH: There is a star-studded set of performers at the most famous New Years Eve spot on the planet. Keep an eye out for Jenny McCarthy on the ground helping out Ryan Seacrest. If you're not brave enough to bare the cold, watch it on ABC between 11 p.m. and 12 a.m.
Article continues below advertisement
PARTY: Bruno Mars New Years Party
WHO: Bruno Mars
WHERE: R Lounge, Renaissance Hotel NYC
THE DISH: This is a true VIP party with hot band Bruno Mars performing. There will be no red carpet and VIP packages run up to $5000.
MIAMI
PARTY: Ciroc the New Year Party
WHO: Kourtney Kardashian
WHERE: Rooftop at Gansevoort Miami
THE DISH: Kourtney Kardashian hosts this soiree. Perhaps it is a Miami sendoff before she takes on NYC on her new reality show? Admission is $200 and the party goes until 4 a.m.
PARTY: Nicki Minaj's All Pink Everything Belvedere Vodka New Year's Eve
WHO: Nicki Minaj
WHERE: Mansion
THE DISH: Join Mansion in hosting Nicki Minaj "All Pink Everything" New Years Eve 2011. Dec. 31 is Pink Friday as Mansion hosts an open bar from 9pm – 12am, complete with glamorous pink décor, Belvedere cocktails, Harajuku Barbie dancers, pink Corvettes, a midnight light show and a countdown by the music world's brightest star, Nicki Minaj!
Article continues below advertisement
PARTY: Playboy New Year's Eve with Your Boy Lil Jon
WHO: Lil Jon
WHERE: Cameo, Miami beach
THE DISH: It's Playboy New Year's Eve at Cameo with your boy Lil Jon! Join us in raising your pimp cup to New Years Eve 2011 as Lil Jon rings in a new year at Cameo Theatre with Playboy making Cameo the sexiest place in the world to be at midnight. Say 'YEAH' as the ultimate master of ceremonies, Lil Jon, gets the party started with an open bar from 9pm-midnight, blinged-out dancers, larger than life décor, a bevy of beauties and 2011's most raucous DJ set by Lil Jon himself.
PARTY: Meet Me In Miami
WHO: Jamie Foxx, Kaskade
WHERE: LIV Nightclub Miami
THE DISH: Actor/singer Jamie Foxx hosts the New Years Party at LIV Nightclub in Miami. We can't guarantee any surprise performance, but celebrities are known to live it up at LIV.
PARTY: Mondrian New Years Eve Party
WHO: Chloe Sevigny, Paul Sevigny, The Misshapes
WHERE: Mondrian Miami
THE DISH: The Sevigny siblings count down to 2011 with the Misshapes performing alongside Andrew Wyatt of the Swedish band, Mike Snow. This bash is for the inner hipster in you.
Article continues below advertisement
LAS VEGAS
PARTY: CIROC Vodka New Year's Eve Party
WHO: Diddy
WHERE: LAX Nightclub Las Vegas
THE DISH: We've seen all the Diddy Smooth Talk commercials so how to show up: open-toed shoes that fit, a slight smile, good breathe and a name change.
PARTY: Caesar's Palace New Year's Eve Party
WHO: Rihanna
WHERE: Caesar's Palace in Las Vegas
THE DISH: Get your countdown on under pop star Rihanna's party "Umbrella, ella, ella," as she hosts a hot bash in Las Vegas to ring in 2011.
PARTY: Cosmopolitan Hotel Grand Opening Jay-Z/Coldplay New Year's Eve Concert
WHO: Jay-Z, Chris Martin, Gwyneth Paltrow, Beyonce
WHERE: Cosmopolitan Hotel in Las Vegas
THE DISH: Get a double dose of fun with the grand opening of the brand new Cosmopolitan Hotel in Las Vegas, while celebrating the New Year with performances by Coldplay and Jay-Z before the ball drops.
LOS ANGELES
PARTY: Beacher's Madhouse
Article continues below advertisement
WHO: David Arquette and Jeff Beacher
WHERE: Beacher's Madhouse in The Hollywood Roosevelt
THE DISH: David Arquette, Jeff Beacher and several Oompa Loompas, burlesque dancers, a live goat, monkey and more. Can we say amazing?
PARTY: Gridlock New Years Eve 2010
WHO: Adam Lambert, Pamela Anderson, Far East Movement, Wonderland, QWES, and Kevin Rudolf, Shayne Lamas, Dakota Lamas
WHERE: Paramount Pictures Studios in Hollywood
THE DISH: Can a live performance by Adam Lambert on New Year's get any better? Yes, indeed. Bombshell Pamela Anderson will be on hand to take in a spectacular firework show at midnight!
PARTY: Playboy Hotel - Official 2011 Playboy New Year's Eve
WHO: Nikki Ziering, Tiffany Selby, Patrice Hollis, Heather Smith, and Pilar Lastra
WHERE: The Playboy Hotel
THE DISH: Need a little seduction to ring in 2011? Hit up the Playboy Hotel bash to hang with playmate Nikki Ziering and many more.
Article continues below advertisement
MORE
PARTY: Shrine's New Years Eve Extravaganza
WHO: Vampire Diaries' Kat Graham
WHERE: Shrine MGM Grand at Foxwoods Resort Casino in Connecticut
THE DISH: For only $50 admission, this party is a steal with Vampire Diaries hottie and singer Kat Graham hosting.
PARTY: CIROC Vodka New Year's Eve Party
WHO: Pete Wentz
WHERE: Hard Rock Hotel Chicago
THE DISH: It will be the hottest party in Chi-town and who knows? Maybe Pete will bring is gorgeous wife Ashlee Simpson to help him spin some tunes.
PARTY: CIROC Vodka New Year's Eve Party
WHO: Taryn Manning
WHERE: BOL in Vail, Colo.
THE DISH: Taryn Manning is a veteran DJ at this point and will know how to heat things up at the party in the chilly city.