NEWS
OK!'s NYC Fashion Week Blog: BebeBlack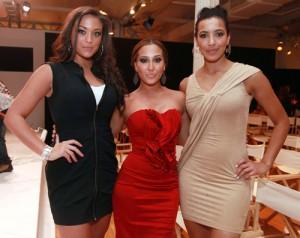 Can't make it to NYC for Mercedes-Benz Fashion Week? Don't worry, OK!'s got you covered! yesterday we checked out BebeBlack's runway show for a sneak peek at the collection and loved every minute of it!
SHOW: BebeBLACK
WHEN: Feb. 16, 2011
OK!'S NYC FASHION WEEK BLOG: MARCHESA
WHO: Louise Roe, Julissa Bermudez, Adrienne Bailon, Sammi "Sweetheart" Giancola
FASHION: Colorful and funky, BebeBLACK is super sexy. Sleek black designs were given life with super bright accessories. The color scheme included bright pops of mustard, aqua, pink and royal blue. Trends included high-wasted pants, short skirts, steel-toed high heels, pleats and leotards. Although Bebe is known for their little black dresses, their new line truly amped things up with jewel-toned cocktail attire to end the show.
Article continues below advertisement
BEAUTY: Models rocked high ponytails with colored hair extensions attached. The colored hair pieces coincided with the bright colors that enhanced the entire show. These perfect ponies were created by BaByLiss PRO. Make up was fun and flirty and accentuated the bombshell line. The team at MAKE UP FOREVER hooked the models up with their chic looks.
COLOR/OVERHEARD: DJ Mia Moretti pumped up the crowd with tunes like Born This Way by Lady Gaga and Firework by Katy Perry. Former Cheetah Girl, Adrienne Baillon, sat next to Jersey Shore's Sammi "Sweetheart" Giancola. The two girls chatted each other up while taking a seat front row before the models came out. Earlier, Adrienne exclusively told OK! that she loves Bebe because,"In any situation, you can always find something to wear at Bebe." Adrienne and Sammi looked like they were having a ball as the models strutted their stuff. After the show, Sammi told OK! that she has been rocking Bebe since high school. But also in the audience was a newcomer to Bebe. When asked about her first time wearing Bebe, the fashion forward Louise Roe explained, "You don't have it in England. I only moved to LA two years ago so it's very recent." So what was her first Bebe purchase? "It was actually a ring. They do great jewelry that no one really knows about."