NEWS
OK!'s NYC Fashion Week Blog: Calvin Klein Men's Collection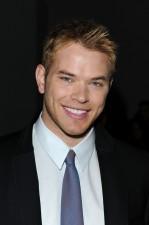 Since not all of us can make it out to NYC for Fashion Week, OK! has it covered and is bringing you all of the details from under the tents at Bryant Park, where we got a peek at Calvin Klein's fresh-faced Men's Collection on none other than Valentine's Day.
Show: Calvin Klein Men's Collection in NYC
When: February 14th 2010
Front Row: Chace Crawford, Ryan Phillipe, Kellan Lutz, Mechad Brooks, Jared Leto, Lee Pace
Article continues below advertisement
Fashion: Calvin's typical sharp lines and fitted cuts using some experimental materials, including suits with a netting over plain fabric to create a shimmering effect, wool overcoats with lapels with a plastic-looking lapel and foil-like jackets (usually worn with the ubiquitous Calvin high turtle necks).
CLICK HERE TO CHECK OUT OK!'S NYC FASHION WEEK HERVE LEGER BLOG
Hair: Sleek, slicked down partings.
Music: Bleepy with minimal dance to match the stark clothing.
CLICK HERE TO CHECK OUT OK!'S NYC FASHION WEEK DIANE VON FURSTENBURG BLOG
Chace Crawford chatted non-stop to Ryan Phillipe. Afterward, he told OK! that it was Ryan's first ever fashion show so he was talking him through the Fashion Week ropes.
Next to them were Kellan Lutz and Mehcad Brooks who told OK! that they compared notes about their shoots for Calvin Klein Underwear.