NEWS
OK!'s NYC Fashion Week Blog: Christian Siriano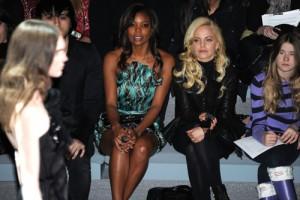 Can't make it to NYC for Mercedes-Benz Fashion Week? Don't worry, OK!'s got you covered! Tonight we checked out Christian Siriano's runway show for a sneak peek at the designer's collection and loved every minute!
OK!'S NYC FASHION WEEK BLOG: LUCA LUCA
SHOW: Christian Siriano
WHEN: Feb. 10, 2011
WHO: Gabrielle Union, Mena Suvari, Alexa Chung, Sofia Black-D'Elia
FASHION: Christian partnered with Payless so the models all wore varieties of black, studded pumps down the runway. Models wore designs in black, silver, charcoal, mauve and moss. With fabric of tweed, wool, cashmere, silk, lace and tulle, Christian showed stunning suits, skirts, trousers, cocktail dresses and ball gowns!
Article continues below advertisement
OK!'S NYC FASHION WEEK BLOG: WILDFOX
BEAUTY: Antoinette Beenders styled the hair for Aveda and makeup was provided by MAC and completed by Polly Osmond. Long hair was styled slightly wavy with very natural makeup, but a slight smokey eye!
COLOR/OVERHEARD: MTV host Alexa sat next to new MTV Skins star Sofia, who looked very excited to be attending the show and was styling a sexy, short haircut. Gabrielle also had a huge smile on her face during the show and sat next to Mena, who seemed to be texting throughout the show. Sh also snapped pictures of herself seated in the front row as well as her favorite designs!
The show had a few frightening moments. With music by Brad Walsh, there was a nice beat for the ladies to follow. However, one model fell during the middle of the show. The audience let out a big, "OH!," when she went down. And she wasn't the only one who had trouble! The model showing the final stunning gown tripped on the front of the dress a couple times, but was able to stay on two feet! When all the models walked out at the end, one model lost her footing...and then her shoe! She finished the one wearing one platform heel and carrying the other, but kept her head held high!