NEWS
OK!'s NYC Fashion Week Blog: L.A.M.B By Gwen Stefani!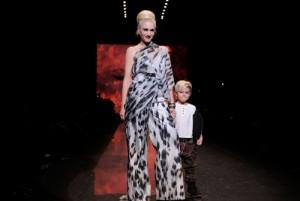 Can't make it to NYC for Mercedes-Benz Fashion Week? Don't worry, OK!'s got you covered! Last night we checked out L.A.M.B's runway show for a sneak peek at the collection and what's not to love about the fabulous Gwen Stefani's new looks!
SHOW: L.A.M.B By Gwen Stefani
WHEN: February 17
WHO: Taryn Manning, Jay Manuel, Christian Siriano, Kingston Rossdale, Zuma Rossdale
Article continues below advertisement
FASHION: Leave it to up to Gwen — a Grammy-winning singer, designer, and doting mom of two adorable sons — to deliver an energetic show with six different mini collections showing in one runway extravaganza!
Group 1: Soldier Girls
The Army has arrived... A sea of army green pants, plaid jackets and tan scarves on top of high volume blonde bouffants with aviators shades started off the show strong. The tough looks were given a dramatic feel with video of helicopters in War zones buzzing in the background and an amazing Led Zeppelin and Queen mix filling The Theatre!
Group 2: Ragga Muffin Girls
Earth tones with warm red, yellow and orange shades sprinkled throughout gave off the feeling of the "one love" vibe of Jamaica. Bird prints and stripes featured in this mini collection made it a playful group to watch.
Group 3: London Girls
Punk prep school with tough girl gone chic attitude. Ties and blazers in fun plaids and navy mixed with leather seemed edgy yet fun.
Article continues below advertisement
Group 4: Buffalo Girls
South West knits and prints, long felted wool trenches layered over long skirts and wool pants with fun wool wide brim hats were warm and yet effortlessly cool.
Group 5: Mod Girls
Keep it classic and simple. This group were in black and white prints, polka dots and striped blouses and dresses. The key to a black and white look is keeping it Minimalistic which Gwen did beautifully with these looks.
Group 6: Glamour Girls
This last grouped embodied Gwen — her beauty and artistic vision. The tall blondes worked the runway in glamorous black dresses and sleek black jumpsuits with gold chains, capes and asymmetrical drapes.
BEAUTY: Each of the six groups brought to life a different, fabulous look on the catwalk.
Group 1: Soldier Girls
The powerful blonde bombshells sported bouffant-esque hairstyles with headscarves housing their elevated 'dos. Each lady also sported aviator sunglasses. A berry colored lip made the look pop even more!
Article continues below advertisement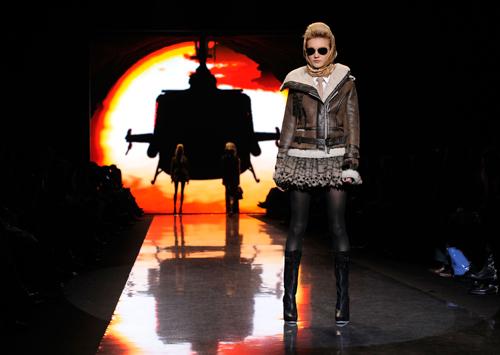 Group 2: Ragga Muffin Girls
The long, lean beauties wore hats similar to the Rastafarian crown style. Makeup was kept more natural compared to the other groups with emphasis on a smokey eye.
Group 3: London Girls
These ladies sported shaggy short 'dos and think black eyeliner over bright blue and silver eyeshadow, rounding out the punky look. Focus was on the eyes as lips were highlighted with a nude color.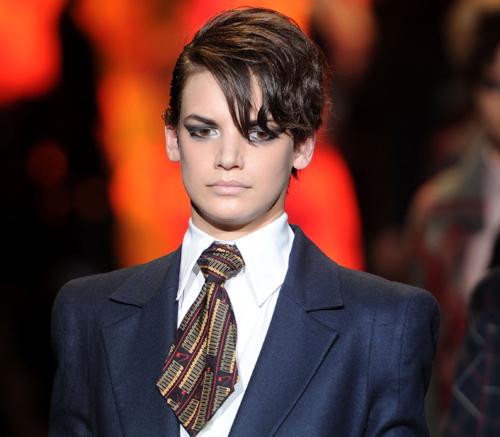 Group 4: Buffalo Girls
It was all about the wide-brim top hats and big, frizzy manes, sprayed with streaks of gray. Black liner made the colorful aqua and bronze shadows pop.
Group 5: Mod Girls
This sleep group sported their hair in nests on top of their head and smokey eyes!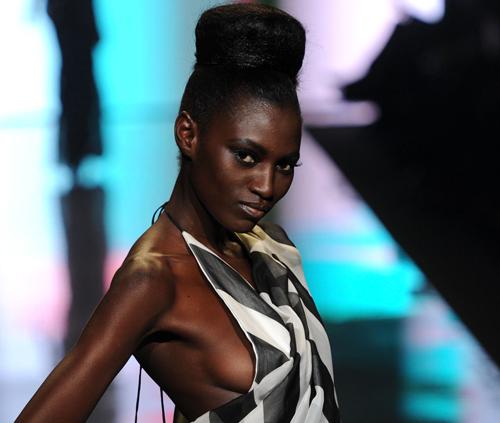 Group 6: Glamour Girls
Blonde, hollywood style hair with lost of volume paired perfectly with cat-eye makeup and the sleek black looks!
Article continues below advertisement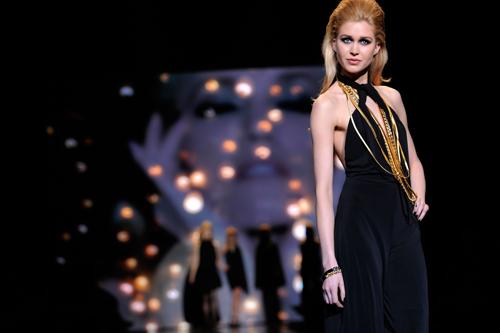 COLOR/OVERHEAD: The energy at Gwen's shows is always high with the biggest names in fashion on-hand to support the fresh, young and talented designer.
Another plus of going to see a L.A.M.B collection, Gwen's adorable family is always on hand supporting their mom! While hot rocker hubby Gavin Rossdale showed his support backstage, sons Kingston and Zuma Rossdale caught the runway action not from the front row, but from one of the aisles!
The adorable blonde boys sat on the stairs in one of the aisles as they watch the looks, and despite the blaring beats, young Zuma fell asleep!
But not Kingston, he zoomed out onto the catwalk as soon as his mom came out to take her victory walk!
Before the show started, commotion filled the runway as one of the expected guests was Matt Damon, but unfortunately the A-list actor never showed up!
Article continues below advertisement
Gwen reportedly said backstage that she never had met Matt and didn't know he was coming to her show!
However, Hustle and Flow star Taryn Manning and America's Next Top Model star Jay Manuel did take in all the action from the front row.
"One of the things I love about Gwen is she is never conventional and really does what she feels works," Jay told OK! exclusively. "She is the perfect hybrid between Rock and Roll and fashion."
Taryn shared with OK! that she has been of fan of Gwen since her early days with No Doubt.
"I think she is an incredible business women and one of the best vocalists," Taryn said. "I love her style because she is like a tom boy and I relate to that and then she also dresses up. When you see her in paparazzi shots she just looks cool and funky.