NEWS
OK!'s Super Bowl Party Guide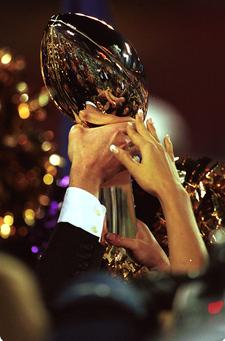 OK! is on the road again and heading down to Tampa, Florida for the 2009 Super Bowl XLIII where we'll be partying with hundreds of A-list celebs and super star athletes who join forces for one mega hot weekend.
While the Arizona Cardinals and Pittsburgh Steelers battle it out for the Championship Title, the stars celebrate football's ultimate showdown in style. And although the economy has forced some past Super Bowl sponsors to pull out from throwing their famous celebratory bashes (Playboy and Victorias Secret to name a few) there will still be plenty of beer drinking, music making and party-hopping to go around!
Article continues below advertisement
We're staying at the Hard Rock, which is guaranteed to be flowing with all-stars and celebs stopping by at the various lounges all week. To sort out all the other hip festivities, weve made a list of our top Super Bowl bashes this year. Party on!
#1
WHAT: ESPN The Magazine's Next Big Weekend 2009 Presented by Ford
WHEN: Jan. 30
WHO: Performance by Wyclef Jean and DJ set by Samantha Ronson. Guests scheduled to attend include Lindsay Lohan, Hank Baskett, Reggie Bush, Matt Cassel, Jimmy Fallon, Cuba Gooding Jr., Benji Madden, Joel Madden, Alyssa Milano, Ryan Sheckler, Paul Walker, Dave Annable and others.
THE DISH: ESPN is going all out this year for their annual Super Bowl bash and this party will be star-studded. We're dying to know if Cuba Gooding Jr. will reprise his famous line from Jerry Maguire, "Show me the money!?" Will Hank Baskett bring his "girl next door," Kendra? Will newly single Benji Madden find a girl post-Paris breakup? Will Lindsay have a showdown with Sam? Will Sheckler make it into the party past a crowd of screaming girls?
Article continues below advertisement
#2
WHAT: The Maxim Party
WHEN: Jan. 30
WHO: DJ AM and DJ Vice will be spinning. Celebs set to attend include Fergie, Christian Slater, Diddy, Alyssa Milano, Dane Cook, Mario Lopez, Maria Menounos, Joey Fatone, Brody Jenner, Chris Kirkpatrick, Dave Annable, Adrienne Bailon and others.
THE DISH: This party will be a close rival for ESPN's gathering, but Maxim's annual bash never disappoints. This year's party is sponsored by Patron, along with Samsung, Gillette and Pepsi Max, which means the drinks will be flowing! Will Fergie give us the dish on her honeymoon with Josh? Will she give us an impromptu concert? Will Brody bring a new bestie from Bromance? Will Cheetah Girl Adrienne bring her Kardashian beau and will she tell us the truth about her racy pics? Will Dave Annable take us out on a date? Ahhh dreamy.
#3
WHAT: DirectTVs Third Annual Celebrity Beach Bowl
WHEN: Jan. 31
WHO: Blake Lively, Penn Badgle,. Christian Slater, Kevin Dillon, Dave Annable (Again? How many parties is he planning to attend?), Brody Jenner, Playboy Playmate Jayde Nicole, the Kardashian sisters, Reggie Bush, Benji and Joel Madden, Stacy Keibler and others.
THE DISH: This event combines celebs and sports icons in an old school match of flag football. With couples including Blake and Penn, Kim and Reggie, Brody and Jayde, we'll be on the lookout for any new ring bling. Also, has Reggie taught Kim any skills on the field? How long do Stacy Keibler's legs look in real life? Will we finally meet our middle school crush Christian Slater?
Article continues below advertisement
#4
WHAT: Leather & Laces Super Bowl Party presented by Texas Energy Holdings
WHEN: Jan. 30
WHO: Kim Kardashian, Jenny McCarthy, Carmen Electra and others.
THE DISH: The Leather & Laces party is always one of the sexiest bashes Super Bowl weekend and with Kim, Jenny and Carmen in one room, this party will be smokin' hot! We're wondering: Will Jenny give is the dish on when she and Jim Carrey will tie the knot? Will Kim sport Reggie's Saints jersey all weekend or will she root for Reggie's ex-teammate Matt Leinart and the Cardinals? Will Carmen meet her sports icon soul mate and stop dating musicians?
#5
WHAT: Madden Bowl
WHEN: Jan. 31
WHO: Joel and Benji Madden and a slew of athletes, including some of our faves: Cowboys wide receiver Terrell Owens, Tampa Bay Rays third baseman Evan Longoria, former USC quarterback Mark Sanchez, Kansas City Chiefs tight end Tony Gonzalez and Cincinnati Bengals wide receiver Chad Johnson.
THE DISH: Eight NFL Players will go head-to-head in the Madden NFL 09 on Xbox 360 tournament and then join dozens of other athletes at the Madden Bowl XV Party where they will shake it to tunes by the Madden bros themselves. Will Terrell tell us how he really feels about teammate Tony Romo and Jessica Simpson? How many times has Evan Longoria been asked about Eva Longoria?
Article continues below advertisement
#6
WHAT: Club 009 Super Bowl Pre-Game Party
WHEN: Feb. 1
WHO: Jesse Palmer and Jerry Rice host. Guests include Nick Lachey, Jordin Sparks and others.
THE DISH: Everyone loves a good pre-party and this celebration on Super Bowl Sunday at a private airplane hangar just a few blocks from Raymond James Stadium is the perfect kick-off before the main event. Is Nick happy Jessica didn't stay in Florida for the Super Bowl? What would he have said if their paths crossed? Has former NFL quarterback and Season 5 Bachelor hottie Jesse given any advice to current Bachelor Jason Mesnick? What does Jordin think of fellow Idol Kelly Clarkson's new tune?
#7
WHAT: Super Skins Celebrity Golf Tournament
WHEN: Feb. 2
WHO: Nick Lachey and three-time NASCAR champion Jimmie Johnson host. Guests include Vanessa Minnillo, Drew Lachey, Joey Fatone, Chris Kirkpatrick, Jerry Rice, Jason Sehorn, Cincinnati Reds Ken Griffey Jr., Baltimore Ravens QB, Kyle Boller, New York Jets Jay Feely and others.
THE DISH: Golf is all the rage for celebs from Justin Timberlake to Catherine Zeta-Jones. This golf tourney challenge celebrities in a team format and the winning celeb team gets to chose the charity of their choice to give the winnings to. Three of our fave "Cs": competition, celebs and charity! Questions: Does Kyle Boller regret dating Tara Reid back in the day? Will Jay Feely miss Brett Favre when– we mean if he finally retires? What is Joey Fatone up to these days? Will Chris Kirkpatrick ever bring back the pineapple hair?