NEWS
OK!'s Top Spot: Sunset Marquis' Bar 1200!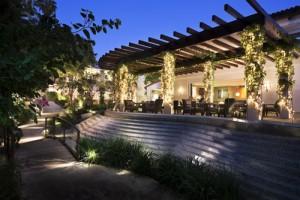 Hollywood's Sunset Marquis Hotel, just steps off the Sunset Strip, has housed music legends from Bono to The Who's Roger Daltrey, and recently Green Day and Justin Timberlake were spotted here. Rock stars are no doubt lured by the in-house recording studio and the luxury suites. Plus, the new late-night A-list bar is a cozy, serene space for famous names to chill with signature drinks, along with great burgers and fries. Want a taste of the Action? Catch a Marquis Bar 1200' signature recipe below!
Article continues below advertisement
Warm gold lighting adds an Old Hollywood feel to the indoor/outdoor space.
"Bar 1200 is known for its drinks, music and the fact that everyone feels comfortable here," a hotel insider tells OK!. So it's no surprise local rockers like John Mayer are loyal guests and guitar gods like Keith Richards come back when they roll into L.A. The place fills up fast so booking a hotel room guarantees you entry — and access to the two pools and spa.
Want to drink like the A-list crowd? Enjoy one of Sunset Marquis' signature cocktails — The Marquis-tini!
Ingredients
• Splash of simple syrup
• 1 ½ oz. Vodka
• ½ oz. pineapple juice
• ½ oz Chambord
Directions
• Make simple syrup by combining equal parts water and sugar in a small saucepan boil until sugar melts. You can store in the refrigerator for up to a month.
• Add cooled simple syrup to vodka, pineapple juice and Chambord and pour all the ingredients into a shaker filled with ice. Shake, then strain into a martini glass and garnish with a twist of lemon.