NEWS
Old School Class...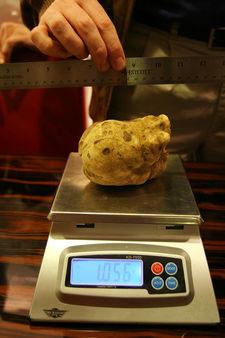 You can buy a used car, or...You can buy a glamorized mushroom. Foodies, including Le Cirque owner Sirio Maccioni, would be most appalled to hear me make such a comparison I'm sure, but I must admit that was my initial reaction when I had the privilege of viewing the 1.1 pound mushroom, ehem, Truffle, Sirio had flown in from Milan,Italy this week - at a cost of nearly $10,000!
Truffles are very special, and costly, treats for refined palettes. Last I checked, the most expensive burger in the world was being sold for at Fleur de Lys at the Mandalay Bay Hotel in Vegas for $5000 because in addition to the kobe beef it was topped with black truffles, stuffed into a brioche truffle bun and topped with a special sauce containing even more truffles.
Article continues below advertisement
In New York celebrity chef Daniel Bouloud has a truffle-topped burger on the menu at DB Bistro Moderne that's sold for $120, bargain.
Not terribly into fungi, I didn't sample the truffles, but I was fascinated viewing the glass-encased gem when I had dinner at Le Cirque Wednesday night - although it didn't intrigue me as much as watching Sirio tablehop.
Since I was a child, my New York-bred grandmother has gushed about Le Cirque. Sirio, who I'm told moved from Italy with nothing but a dream before opening the original Le Cirque more than three decades ago, has played host to celebrity elite from Jackie O to Oprah, President Clinton and hundreds more. The restaurant has moved from it's first home in the New York Palace Hotel to a more modern space, yet flanked by his sons, Sirio is still present playing host nearly every night. Quite impressive.