NEWS
Olivia Munn Becomes "A Very Giggly Japanese Schoolgirl" on 'Magic Mike' Set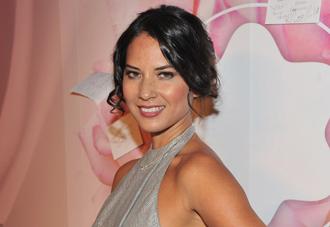 Olivia Munn graced the 2011 Princess Grace Awards Gala with her presence on Tuesday night in NYC, but she really would have rather been on set — watching her male co-stars dance!
Olivia has been hard at work on the set of Steven Soderbergh's male stripper movie Magic Mike, and she's been more than enjoying it.
"Yeah, I'm having fun with everybody. I mean, it's such a great, great group of guys," Olivia told reporters at Cipriani 42nd Street last night. "It's Soderbergh and this amazing group of people, and it's fun and it's amazing to watch everyone. They're really talented actors who've learned how to do these really amazing dances."
Article continues below advertisement
The cast includes hot actors Matthew McConaughey, Channing Tatum, Matt Bomer, Joe Manganiello and Alex Pettyfer.
And Olivia doesn't just sneak peeks at those dances.
"Oh, my gosh. Not a sneak peek. I'm, like, front-and-center, like, 'Oh, my gosh!' I'm not a very shy girl, but when I watch them I just become a very giggly Japanese schoolgirl. Like, 'Ah, my God, I cant believe I'm watching this.' I regret the days that I'm not there watching them dance."
"Right now, I'm mad," she added. "I'm furious that I'm not watching Matt Bomer get up there and shake it, because he can shake it better than probably most people in the world."