NEWS
Olivia Newton-John Reveals 'Glee' Secrets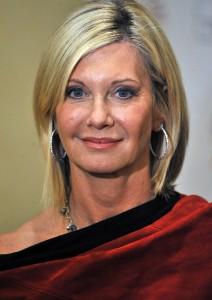 When Olivia Newton-John begins her guest stint on Glee tomorrow, the Grease icon will belt out her classic hits.
"I had a blast, of course," the singer, whose rainforest beauty secrets are available at LluviaSkinCare.com, tells me. "They invited me on to play an obnoxious version of myself. laughs I got to re-record Physical. Jane Lynch and I did that again, and they re-did it. They copied the exact look of the video. It was a laugh. We had such a good time."
Article continues below advertisement
She adds, "She does Physical herself and posts it on YouTube and the students find it. That's how it gets to me, and then I call her up and it's fun."
Olivia got an on-set visit from Dianna Agron, who plays the pregnant girl, and Chris Colfer, who plays the gay student, when she filmed during their day off.
"It was lovely," she says.
Performing on Glee brought back school memories for Olivia, who was educated in Australia.
"I don't think I was in the choir – probably because I was shy," she says. "They always wanted me to sing solos, so I always stayed clear of it. I tended to do my singing outside of school. I didn't sing much at school, but I started when I was 15, and I started singing in coffee lounges at that time. Singing music, and singing with my friends. But I didn't really do a lot with my school."
What clique did she belong to in high school?
Article continues below advertisement
"It wasn't a clique. It was just a couple of girls. We all had long, blonde hair. I only had a couple friends in high school. I had three girlfriends that I hung out with there. They were sporty girls. I think we played basketball on the weekends, and I was in drama – in the Drama Club. I think one of them was in Drama Club. But that's about all I remember."
She adds, "I don't remember the popular crowd and the non-popular crowd being part of my high school in Australia. It was a pleasant experience, but everyone was pretty focused. It was a university high school, and we were attached to a university, and people at that stage were pretty serious about their schoolwork as you had to be to stay there."
Hm, was she a good student?
"No," she laughs. "I was not. I would rather sing or do my acting or the creative stuff. I was not a very good student. I had the capacity, but I didn't study and my mind was elsewhere."
Still, Olivia doesn't hope to coach students after her appearance on Glee.
"I'd be hopeless," she laughs.
Here are my pix with Olivia through the years. (Psst! That's Kelly Preston on the right.)
Catch Olivia Newton-John on Glee beginning tomorrow. And, pick up the OK! on newsstands now for more about Olivia and the cast of Glee. The cover line is Jennifer Aniston/"How She Lost 7 Lbs. in 7 Days." Also: Visit LluviaSkinCare.com to get Olivia's rainforest beauty secrets.