NEWS
OMG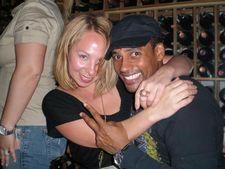 I'm One Degree Removed From the Next President of the United States of America!!!
Yes, we're all apparently six degrees separated from Kevin Bacon and now I am one degree away from President Elect Barak Obama – thanks to my friend Hill Harper.
You probably best know Mr. Hill Harper best as Dr. Sheldon Hawkes, his CSI:NYC character for the last four years. I met Hill a few years ago when I visited LA for the first time since college to attend a swanky soiree to support his Adopt-a-School Initiative and at the time, new book "Letters to a Young Brother." I made the trip with a couple of friends of Hill's who stayed in his guest bedroom and he kindly got me an air mattress to sleep on in the study. It was actually pretty comfy. We've been friends ever since.
Article continues below advertisement
Most people know Hill as an actor, or more locally, bachelor about town who always has a big smile on his face. But ,did you also know he obtained a law degree - while Barak Obama's roommate at Harvard Law School and they've been BFF ever since! Hill was even a surrogate for Barak during the election! Maybe one day he'll be president too, or at least a member of the cabinet?
In Chicago, of course, Hill celebrated the win at a victory party at The Underground where guests like Forest Whitaker and Star Jones joined him in dancing up a storm to the beats of DJ Cassidy.