NEWS
One Day With Keyshia Cole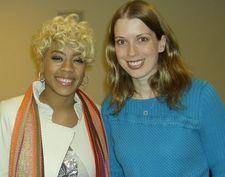 Keyshia Cole has a reputation for being behind schedule, but she turns on the charm as soon as she arrives. The 26-year-old singer is promoting her first flick How She Move, and I get the drift that she's delayed just because she's trying to keep everyone happy. She's friendly and accommodating at every turn.
When we first meet, she strides into NYC's Paramount's offices with her co-stars Rutina Wesley and Tre Armstrong an hour-and-a-half later than expected after putting in an appearance at MTV down the street.
Article continues below advertisement
(Luckily, we journalists console ourselves with chocolate-chip cookies, and swag including How She Move t-shirts, hats and tanks.)
How has being the reality star of BET's highest-rated show in history, Keyshia Cole: The Way It Is, changed things for the platinum-selling R&B singer?
"It hasn't," the two-time Grammy nominee says. "It just gave people a little insight on me and my family. I wanted that. They need to see – especially the young ladies who buy the album, regardless of what background that might be – they look to me, and they see where I come from, where I'm headed and what I've accomplished. I wanted them to know that the behind-the-scenes outlook of it all. It ain't easy, and I succeeded with a mother like this, and my sister's going to be OK. Don't even worry about it – we're going to make it."
The next day, I meet Keyshia at NYC's Planet Hollywood for her handprint ceremony. Twenty photographers bide their time for forty minutes until she arrives with Rutina and Tre.
"I feel like Britney Spears," Keyshia says, flashbulbs popping. "That's why you're driving Britney Spears crazy!"
We head upstairs to a private area, where she samples carrots and chicken fingers. Timbaland and OneRepublic's Apologize and Nickelback's Hero provide the soundtrack.
MORE ON:
Red Carpet Confidential
Article continues below advertisement
Keyshia plays herself judging a dance competition in How She Move, which is out now.
"When I saw the film, I cried three times," she says. "I could relate to it. You could feel her character. That's why I say 'Rutina's going to be big, like Angela Bassett' because she can make me feel it and understand what the character really means."
Alas, acting is not a career Keyshia hopes to pursue.
"I'm not excited about it," she says. "I like to know what I'm doing before I do it. I don't have any experience, and I don't have time to really get into the classes."
Her co-star Tre encourages her to turn on the drama.
"I'd love to see you, so if you ever change your mind, let us know," she tells her.
Keyshia overcame a hardscrabble upbringing, and can certainly do anything she puts her mind to do.
"My mother has been on drugs my entire life," she tells me. "I stayed focused. You have to have determination, and sometimes it takes sacrifice. You have to be willing to give what it takes."