NEWS
'One Tree Hill' Recap: Dan Says Goodbye and a Character From the Past Returns!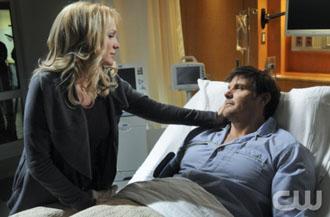 Article continues below advertisement
We never thought we'd get so teary-eyed over Dan's death, but honestly, it was one of the most emotional episodes in OTH history.
Not only did Nathan forgive his father for all the terrible things he did in the past, which of course include killing his own brother Keith (Craig Sheffer) and abandoning Lucas (Chad Michael Murray) and Karen (Moira Kelly), he lets Dan know that he loves him and always will.
Even Haley (Bethany Joy Lenz) forgives Dan and lets him hold his granddaughter Lydia for the first time. And did we mention Deb (Barbara Alyn Woods) and her ex-husband have a moment that erases every bad thing that's ever happened between them? Well, they did, and we loved every second of it.
Someone who didn't show up to say goodbye was Lucas, who Haley reveals "can't make it," aka Chad wasn't willing to appear on another episode and let all of us fans down.
MORE ON:
Chad Michael Murray
Article continues below advertisement
But on another note, Julian (Austin Nichols) rekindles his love of Lucas' book An Unkindness of Ravens and tells Brooke (Sophia Bush) that he's going to try to make it into a TV series! (Aww, a show based on One Tree Hill ON One Tree Hill... clever!)
Also, Brooke finally tells her father (Richard Burgi) to leave her alone after he tries to sell her clothing line, Baker Man, and Clay (Robert Buckley) and Quinn (Shantel VanSanten) spend time with his son Logan (Pierce Gagnon), who appears ready to accept Clay as his dad.
So, daddy drama seemed to be the theme last night...
OK! NEWS: ONE TREE HILL STAR BETHANY JOY GALEOTTI GETTING A DIVORCE
Now back to Dan. After saying goodbye to Nathan and hearing what he's wanted to for so long, Dan dies and goes to heaven. Well first, he stops by Tree Hill High and is reunited with Keith — that's right Keith came back! — and gets the chance to apologize for shooting him and destroying the lives of the people he loved most. Of course, in typical "Uncle Keith" fashion, he forgives Dan and tells him that he's his "plus one" in heaven. (At this point, we're balling.)
But all in all, fans of OTH realized one thing last night: whether you hate Dan Scott or not, if Keith can forgive him, so can we.
FYI: THERE'S ONLY TWO EPISODES LEFT OF ONE TREE HILL... EVER. So make sure to whip out the box of tissues.