NEWS
'One Tree Hill' Recap: Dan Takes a Bullet for Nathan & Brooke is Attacked by Xavier!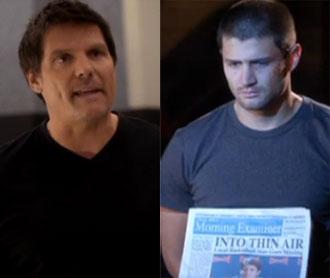 In one of the most intense episodes of One Tree Hill ever, Dan (Paul Johansson) teams up with Julian (Austin Nichols) and an unsuspecting Chris Keller (Tyler Hilton) to try and bring back Nathan (James Lafferty), who is being held hostage by some crazy European mobsters in a warehouse.
OK! GALLERY: SOPHIA BUSH & THE REST OF THE CAST OF ONE TREE HILL CELEBRATE THE SHOW'S FINAL SEASON
And that's only the beginning. Brooke (Sophia Bush) finds Karen's Café completely trashed and suspects two culprits — either it's her café rival Tara (Chelsea Kane) or the creepy criminal Xavier (Devin McGee), who just won't seem to leave her alone.
Article continues below advertisement
We soon discover that it was, in fact, Xavier after he follows Brooke to the dark and desolate Tree Hill parking garage and threatens to kill her. (Might we add, Brooke said from the minute Xavier was released from jail that he would try and hurt her — she was right).
Just before he's about to stab Brooke, Tara saves the day and shocks him, nearly to death, with a taser. Let's just say the whole "enemy" thing should be coming to an end now that Tara saved Brooke's life.
Speaking of saving lives, Dan conjures up a plan to rescue Nathan and teaches Julian and Chris Keller — yes, Chris Keller — how to shoot before they head to the warehouse to take down his abductors.
But right when Julian thinks he's in it for the long haul, Dan tells him to go home to his family, who needs him more than he does. That leaves Chris Keller as Dan's only sidekick, something we never suspected, but all in all, ended up adding a touch of comedy to the very dramatic episode.
Article continues below advertisement
Now back to the drama. Dan eventually finds Nathan and tries to figure out a way to get out of the building before the lead mobster kills them both. Just when Dan thinks the coast is clear, Dimitri (Andrew Elvis Miller) fires a shot a Nathan, but he jumps in front of his son just in time to take the bullet.
That's when Dimitri lets Nathan know that he's about to die before Julian — yup, he never left! — returns and whacks Dimitri in the head with what appears to be a shovel.
But now the question is, will Dan survive? And how will Brooke fare after her scary run-in with Xavier?