NEWS
ONLINE EXCLUSIVE: More of Rachel Uchitel's OK! Interview & Pics!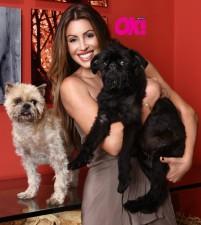 In the new issue of OK!, on sale everywhere now, we bring you an exclusive interview with night club promoter Rachel Uchitel, one of the women allegedly involved with Tiger Woods. And now in this OKmagazine.com exclusive, we're sharing even more of our interview with Rachel, with more insight into the woman behind the headlines and never-before-published exclusive pictures from OK!'s shoot at her home.
Article continues below advertisement
While others are ready to paint Rachel in a negative light, the New Yorker would like it if those criticizing her would just step into her shows for a moment before judging her.
"I want people to realize that I'm human and I have very good qualities about me that people are missing out on because those aren't the interesting ones for the story that everyone has been creating," she explains.
As for those who call her a "homewrecker" or other names, Rachel says "they have absolutely no idea who I am. Of course it is hurtful but at the same time I have to realize that everybody has their own problems.
"It's just hurtful that I'm not given the benefit of the doubt," she adds. "How you're judged by the nation... it's really difficult. It's really horrible."
For even more of OK!'s exclusive interview and at-home photo shoot with Rachel, pick up the new issue of OK! — on sale everywhere now! OR CLICK HERE TO DOWNLOAD THE ENTIRE ISSUE INSTANTLY!