NEWS
Oprah: I Fell Off the Wagon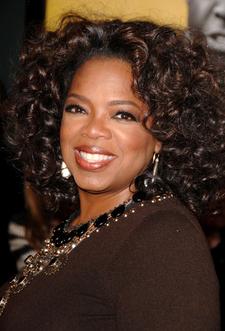 While Oprah Winfrey may inspire others every day to change their lives, she admits she's had a bit of trouble doing that in her own life, especially when it comes to her weight. The daytime diva confesses that she has "fallen off the wagon" of healthy living and now weighs in at 200 pounds.
"I'm mad at myself," she writes in the January issue of O, published by the Associated Press.
''I'm embarrassed,'' she writes. ''I can't believe that after all these years, all the things I know how to do, I'm still talking about my weight. I look at my thinner self and think, `How did I let this happen again?' "
Article continues below advertisement
Winfrey also says it's not just about being thin, that now she wants to be fit and healthy. However fitting into a dress for President-elect Barack Obama's inaugural ball next month is also on her mind.
''I had a dress on the vision board, but I'm not sure that's gonna fit,'' she confesses. ''So I have to work on something else.''
Oprah, who has worked hard to help others attain their hopes and dreams, seems to be taking her weight loss failure straight to the heart.
''I definitely wasn't setting an example,'' she writes. ''I was talking the talk, but I wasn't walking the walk. And that was very disappointing to me.''