NEWS
Oprah & Others Come Out to Support Jennifer Hudson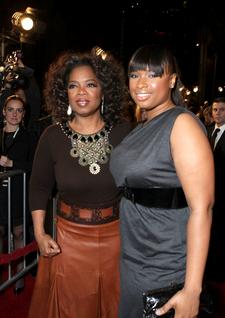 As Jennifer Hudson attempts to cope with the monstrous tragedy that recently befell her family, the Oscar-winner has been kept afloat by an outpouring of support from famous friends.
On Monday afternoon on Chicago's South Side, Beyoncé, Rev. Jesse Jackson, Fantasia, Missy Elliot, Patti LaBelle and Queen Latifah were among the 450 mourners packing the pews of the Apostolic Church of God for the memorial ceremony to celebrate the life — and mourn the loss of — Jennifer's mother Darnell Donerson, her brother Jason, and her 7-year-old nephew, Julian King, who, according to a family friend, all looked "peaceful and well-rested" in their open caskets.
Article continues below advertisement
Also on hand for the service was Chicago native Oprah Winfrey, who opened up her home to the grieving star. "Jennifer has been staying at Oprah's East Lake Shore Drive condo," a source tells OK!."There's plenty of privacy and security there for the heartbroken performer."
After following a procession of three hearses and a horse-drawn trolley carrying the child's coffin, Jennifer entered the church with her fiancé, David Otunga.
"She walked in the church with David," an eyewitness tells OK!. "He was at her side the entire service, wiping her tears and holding her. Jennifer looked equally in shock and mournful throughout the service, but managed a smile when speakers shared their memories of her family."
"Jennifer looked upset but managed to keep herself together," a friend tells OK!. The 27-year-old shared the front row with Julian's mother, Julia, and comforted her sister as she "cried the loudest of anyone."
Despite the difficulties of saying goodbye, Jennifer, 27, and Julia, 31, experienced some uplifting moments. "Jennifer managed a smile when speakers shared their memories of her family," adds the insider, "and Fantasia brought the house down with her singing."