NEWS
Oprah Winfrey & Boyfriend Stedman Graham Speak Out on Struggling OWN Network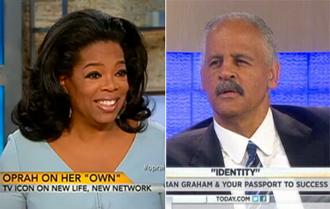 Oprah Winfrey and her boyfriend Stedman Graham appeared on morning TV today — but on separate networks. Oprah spoke out on CBS This Morning about the struggles her OWN network has faced, while Stedman promoted his new book, Your Passport to Success, on the Today show. But being the loyal boyfriend that he is, Stedman also spoke out on OWN and defended the network.
OK! NEWS: LADY GAGA'S MOTHER TELLS OPRAH WINFREY SHE "THOUGHT SHE HAD A SCREW LOOSE"
Article continues below advertisement
On CBS This Morning, Oprah admitted that if she had to do it over again she may not have started OWN.
"The idea of creating a network was something that I wanted to do. Had I known that it was this difficult, I might have done something else," she explained. "I didn't think it was going to be easy, but... if I knew then what I know now, I might have made different choices. If I were writing a book about it, I could call the book 101 Mistakes."
But Oprah won't quit.
"The reason why I wouldn't do that, first of all, I would be happy in my garden under the tree with my dogs, reading a book. I'd be happy with doing that. (My partner) Stedman says, 'About two weeks.' Because I'm a very driven person. Also, I believe that I am here to fulfill a calling," she said. "That because I am a female who is African American, who has been so blessed in the world, there's never going to be a time to quit. I will die in the midst of doing what I love to do. And that is, using my voice and using my life to try to inspire other people to live the best of theirs."
Article continues below advertisement
OK! NEWS: WHITNEY HOUSTON'S DAUGHTER BOBBI KRISTINA OPENS UP TO OPRAH WINFREY
And Stedman completely supports her decision to not give up.
"Well, first year should be tough," he told Matt Lauer on Today regarding OWN not doing as well as expected. "If you've been working on a show for 25 years, you've been number one and you're starting off with the first year in developing OWN, it should be tough. You have to reorganize… Every year it gets better and better and better and better. That's part of the process."