NEWS
Oprah Winfrey's Farewell Show: Maria Shriver, Tom Cruise & More Celebs Join the Finale!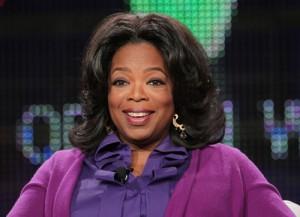 After 25 years, Oprah Winfrey is saying farewell to her hit daytime talk show. Next Wednesday, May 25, the highly-anticipated final Oprah Winfrey Show will air! The exact format/topic of the show remains unknown, but let's just say Oprah gets surprised many times by some of her favorite celebrity guests/pals. Details from the taping yesterday at the United Center in Chicago, Ill., have been revealed and it was certainly a farewell extravaganza!
Article continues below advertisement
Oscar winner Tom Hanks hosted the first hour of "Surprise Oprah! A Farewell Spectacular," according to The Hollywood Reporter.
"Now Oprah, I know you do not like surprises. Let me see if I can put you at ease. There was an English playwright who said there's no surprise more magical than the surprise of being loved, and that is what tonight is all about... pulling off this little show at the United Center has been the best kept secrets," Tom began before introducing the first surprise guest, Tom Cruise, who refrained from jumping on any couches.
"You looked like you were 10 when you on my show in 1988. And what was up with my hair?" Oprah joked, acknowledging that Tom was a guest on the show about 12 times.
Since the taping took place in the house that Michael Jordan built, it was only fitting that the Chicago Bulls all-star himself was part of the grand farewell.
"You've inspired me," Michael told Oprah, quipping he could help her find a job if she need it.
Article continues below advertisement
Maria Shriver also took part in the finale, amid her very public separation from husband of 25 years, Arnold Schwarzenegger, who announced yesterday that he'd fathered a child out of wedlock with one of their former household employees.
"Well Oprah, for more than 30 years, you bestowed the most amazing friendship on me, given me love, support, wisdom and most of all truth," Maria said.
Oprah stood strong next to Maria, keeping her arm tightly around her the entire time. It has been rumored that Maria will get her own show on Oprah's network, OWN.
Madonna didn't perform, but dubbed Oprah her only living female hero.
"She is a self-made woman who has been at the top of her game for 25 years. And she is still kicking (butt)," Madonna professed.
"You don't have children of your own, but you have mothered millions," Jada Pinkett Smith shared, who hosted the second hour of taping with husband, Will Smith, on stage.
Article continues below advertisement
Oprah and her lucky 20,000 audience members were also treated to musical performances by Beyoncé, Rascal Flatts, Usher, Jamie Foxx and Stevie Wonder.
The talk show host's longtime boyfriend, Stedman Graham, was also on hand to honor his beloved — "Honey, you are so special, and I am so happy... I'm so proud of you," Graham said.
Love was everywhere, and Oprah couldn't have been more touched.
"I feel the love! And I thank you for it," she said with tears streaming down her cheeks. "Thank you for being a part of this great night, this celebration for what you have done for The Oprah Winfrey Show ... your being here tonight... honors me in the deepest way possible."