NEWS
Oprah Winfrey's Final Show Topic (& Guests) Revealed!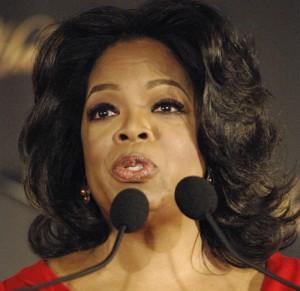 After 25 years on the air, Oprah Winfrey is saying goodbye to her beloved daytime talk show tomorrow. So who/what will fill up the 60-minute spot for the very last Oprah Winfrey Show?
No one. Just Oprah.
Sources at the taping in Chicago, Ill., via Access Hollywood, said there wasn't one celebrity or a newsmaker who made an appearance on the stage.
Article continues below advertisement
Instead, Oprah sat by herself on her set and "sharing her life lessons and revisiting clips from her quarter-century on the air as The Oprah Winfrey Show host."
"This is my love letter to you," Oprah reportedly said, her "eyes moistened with tears at times during the taping."
She reportedly stayed calm and avoided the "ugly cry."
While no one was on stage with Oprah — Maria Shriver, Suze Orman, Tyler Perry, trainer Bob Greene, best friend Gayle King and longtime beau Stedman Graham were in the audience.
Oprah's fourth grade teacher, Mrs. Mary Duncan, was also part of the final audience.
"It was in her class that I really came into myself. After all these years, I could say thank you to a woman who had a powerful impact on my early life," Oprah has said of her teacher's influence.
The final Oprah Winfrey Show airs tomorrow on ABC.